The End of an Era: Arlington Girls' Basketball Takes Second At State
Keep your chin up; we're fine.
Those were the words that Coach Marsh repeated to his seniors as they sat, sobbing on the bench, as the clock ticked down on the final high school game of their lives.
Each senior came off the court in tears, raw anguish and heart-wrenching sadness etched into the lines of their faces. But they came off the court with something else, too: Thunderous applause from the audience.
The band, the crowd, and the sideline all cheered for the Eagles, louder then they ever had before. The ladies made their way down the sideline, accepting hugs from their teammates and coaches and watched as the final seconds drained from the clock.
They had lost the game–but they had won so much more.
••••••••••
The Arlington Eagles placed second in the state of Washington. They fell to Bellevue by a final score of 69-40. But that score does nothing to reflect how the Eagles played during the course of the game. How they battled until the very last second, how they left it all on the court.
It doesn't talk about how many times Sarah Shortt ('16) went skidding across the court; how many shots Gracie Castaneda ('16) and Serafina Balderas ('16) took, breath held, waiting for the ball to swish through the net. The score doesn't tell you about how many times Jayla Russ ('16) stood tall under the basket, or how many times Olivia Larson ('16) flew down the court for a steal. It doesn't tell of the triumph and the struggle; the elation and the emotion.
The score said Bellevue had won, but, it turned out that Arlington had won just as much.
••••••••••
Recaps are supposed to go up on our website within 24 hours. They're supposed to be right around 250 words and, above all else, they're supposed to be objective. You're supposed to simply relay information to the reader.
But that didn't feel right for this game, for this team, for this season.
So instead I offer this piece: My last recap, my last piece, on the 2015-2016 girls' basketball team, who I had the honor and pleasure of covering all year.
If you were lucky enough to attend even one game this year, you'll know how special this season was. You'll know of the talent, of the uniqueness, of the magic of this team.
You'll know how this team took second in state–and you'll know what they won on Saturday night.
About the Writer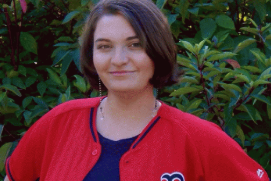 Hannah Martian, Editor-in-Chief
Hannah Martian is a senior at Arlington High School. She participates in Knowledge Bowl, Hi-Q, NHS, tennis, and is a senior class officer. She is the Editor-in-Chief...