Going for Gold: Eagles Best Kamiakin, Advance to 3A Title Game
On Friday night, the Arlington Eagles did what they've done best this season: Win. They bested the Kamiakin Braves by a final score of 44-30, propelling them to the 3A Girls Championship game tomorrow night.
The Eagles soared in the early stages of the game, going up 14-3 at the end of the quarter, largely in part to Peyton Brown ('18) putting up 9 points. Arlington's dominance continued into the second quarter, where they were able to go up 22-10.
The second half saw more Eagles' offense, as at the end of the third quarter they led the Braves 36-17. Arlington was able to cruise to victory, defeating Kamiakin by a final score of 44-30.
The night was impacted heavily by several internal members of the Eagles, including seniors Sevi Bielser, Gracie Castaneda, and Serafina Balderas who all had 6 points on the night. Senior Jayla Russ also helped on the offensive side of the ball, putting up 8 points for the Eagles.
It's as if the state tournament has sent a jolt of energy through this Eagles squad. They're using the 3-ball more effectively then ever, and are standing tall on defense. Both seniors and underclassmen alike contribute in huge ways, with each player truly making the other better.
Arlington will face off against Bellevue tomorrow night at 9pm in the 3A title game. Bellevue defeated Lynwood, the only team that Arlington has lost to this season, earlier tonight.
Castaneda–6. Balderas–6. Shortt–2. Bielser–6. Gutierrez–0. Larson–0. Janousek–2. Brown–11. Anderson–3. Miears–0. Russ–8.
Leave a Comment
About the Contributor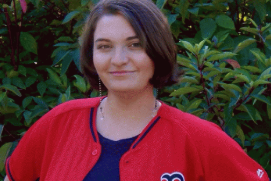 Hannah Martian, Editor-in-Chief
Hannah Martian is a senior at Arlington High School. She participates in Knowledge Bowl, Hi-Q, NHS, tennis, and is a senior class officer. She is the Editor-in-Chief of Arlington's website, The Eagle. She hopes to go to Washington State University, then into the publishing industry...or maybe she'll become a color commentator for professional baseball.