Eagles Victorious in First State Matchup, Defeat Lincoln 48-33
On Wednesday, senior Serafina Balderas was looking for two things: A win at the State quarterfinals against Lincoln and some Thin Mints.
On Thursday, Balderas got both.
The Arlington Eagles bested the Lincoln Abes 48-33 Thursday night, allowing them to advance to tomorrow night's semifinals.
Arlington kept the score close in the early stages of the game, as at the end of the first quarter the Eagles were tied with the Abes at 9 apiece. The Eagles would score nine more points in the second quarter, with points coming from Balderas and the dynamic duo of seniors Olivia Larson and Emma Janousek. At the half the Eagles led by a slim margin of 18-17.
The Eagles came out strong in the second half. They piled on the points, scoring 30 while holding Lincoln to only 16. Balderas put up 10 points on the night, while senior Sevi Bielser had 9. Sarah Shortt ('16) also had an impressive night, with 10 rebounds and 8 points.
"We played our "D" like we know how to, and we really worked the ball well offensively," said Larson. "We kept the pressure up and it worked well for us."
With the win, Arlington advances to the semifinals, where they will face off against Kamiakian for a shot to play for the State title. The game will be played tomorrow night at 9pm, and The AHS Eagle will have full coverage.
Castaneda–4. Balderas–10. Bielser–9. Janousek–7. Russ–6. Brown–3. Shortt–8. Miears–0. Larson–0. Anderson–2. Mellick–0.
Leave a Comment
About the Contributor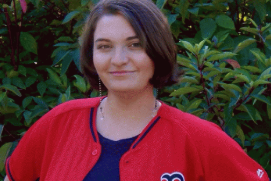 Hannah Martian, Editor-in-Chief
Hannah Martian is a senior at Arlington High School. She participates in Knowledge Bowl, Hi-Q, NHS, tennis, and is a senior class officer. She is the Editor-in-Chief of Arlington's website, The Eagle. She hopes to go to Washington State University, then into the publishing industry...or maybe she'll become a color commentator for professional baseball.