Headed to the Dome: Girls' Basketball Advances to State With Impressive Regionals Win
The Arlington Eagles have done it again: With Saturday night's 49-30 win over Bishop-Blanchet, the Eagles will travel to the Tacoma Dome for the fourth year in a row.
The Eagles started off the game slowly, trailing after the first quarter 8-6. But after that, the Eagles but Blanchet in the rear view, leading 20-14 at the half. Led by seniors Gracie Castaneda and Sarah Shortt, the Eagles soared to the second half. Near the end of the third quarter, senior Serafina Balderas had a spectacular leaning shot that put the Eagles up 32-21. The Arlington crowd cheered as loud as it had all season as the final seconds ticked off the clock, punching Arlington's ticket to the Tacoma Dome.
One of the highlight's of the night was Castaneda's dominating performance, in which she scored a game-high 16 points. Shortt and Jayla Russ also had great nights, each with 9 points. The speed of Shortt and senior Olivia Larson, along with help from the bench, including a long three by Peyton Brown ('18) and four points from Abby Anderson ('17), also contributed to the Eagles' victory in a big way.
With the win, the Eagles will travel to the Tacoma Dome to play in the state tournament, which starts this Thursday and goes until Saturday. There, Arlington looks to continue their winning streak–in a big way.
"We're really excited," said junior Tahlia Miears after the victory. "We just hope to dominate at state."
Castaneda–16. Balderas–2. Shortt-9. Bielser–6. Larson–0. Janousek–0. Brown–3. Anderson–4. Miears–0. Russ–9.
Leave a Comment
About the Contributor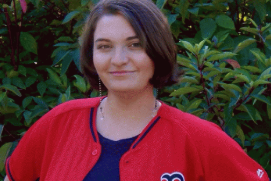 Hannah Martian, Editor-in-Chief
Hannah Martian is a senior at Arlington High School. She participates in Knowledge Bowl, Hi-Q, NHS, tennis, and is a senior class officer. She is the Editor-in-Chief of Arlington's website, The Eagle. She hopes to go to Washington State University, then into the publishing industry...or maybe she'll become a color commentator for professional baseball.