Down But Not Out: Arlington Girls' Basketball Falls to Lynwood, Heads to Regionals
After suffering the first loss of the season to the #1 ranked Lynwood Royals, the Arlington Eagles will travel to regionals in order to play their way into the state tournament.
The Eagles lost to the Royals on Saturday night at Jackson high school by a final score of 60-22. The Eagles faced several obstacles in the loss, including how they managed to give a new meaning to the phrase "lid on the basket."
Arlington started off the game well, matching Lynwood shot-for-shot, and only trailing 14-10 at the end of the first quarter. However, the second quarter was easily the worst quarter of the year for the Eagles: They were held scoreless for the entire quarter. In addition, Arlington suffered several turnovers, and, coupled with Lynwood's extremely precise passing, the Eagles were digging themselves into a hole.  At halftime, they were down 34-10.
The second half started similarly for the Eagles: Scoreless. Senior Jayla Russ was finally able to put some points on the board for the Eagles with two minutes left in the third quarter, scoring four points after a made three and a foul. But the deficit was just too great for Arlington to overcome, as they fell to the Royals, 60-22.
Because the playoffs are double-elimination, the Eagles have another chance to get to the state tournament: They will face Bishop-Blanchet, a team that went 23-2 this season out of the Metro league, at Mountlake Terrace at 6pm this Saturday.
Castaneda–2. Balderas–0. Shortt–0. Bielser–2. Gutierrez–0. Larson–2. Janousek–1. Brown–3. Anderson–2. Miears–2. Russ–8. Mellick–0.
Leave a Comment
About the Contributor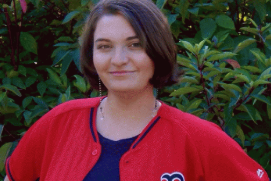 Hannah Martian, Editor-in-Chief
Hannah Martian is a senior at Arlington High School. She participates in Knowledge Bowl, Hi-Q, NHS, tennis, and is a senior class officer. She is the Editor-in-Chief of Arlington's website, The Eagle. She hopes to go to Washington State University, then into the publishing industry...or maybe she'll become a color commentator for professional baseball.