Arlington Tennis Continues Their Dominence
On Wednesday, September 14th, the undefeated Arlington Eagles Tennis team took on the Marysville-Pilchuck Tomahawks in their first of two meetings this season. After coming off a big win against Lake Stevens on Friday, the team looked to keep the momentum rolling.
Many of the players feel they have a chip on their shoulder knowing there's a zero in the loss column. Senior Kade Meyers believes that it's "easier going into match(es) knowing that we haven't lost." He also added that he "has more confidence" in his strokes and his abilities.
The Eagles cruised to an easy 7-0 victory over the Tomahawks, with notable shutout wins in singles by Nick Mendro ('17), Sean McCauley ('17), and Conner "Foc" Fochasato ('18). Edward Radion ('17) and Will Eckley ('18) also shut out their opponents 6-0, 6-0 in doubles. I talked with Fochasato after his match about how the Eagles could keep the win streak going, and he said that "we can't let this get to our heads", and that "we need to stay focused in practice, keep it loose, and have fun."
Though the boys are looking strong now, it's not an easy road ahead. The Eagles will face tough matches against Stanwood and new rival Snohomish, who just recently moved into their 3A North division. However, they seem up for the challenge. Coach Ben Mendro, who's coached Arlington tennis for multiple years, calls this team "the best team (he's) ever had." The veteran team of eight seniors, four juniors, and one sophomore are poised to take on any challenge that lies ahead. Tomorrow the boys will try to add on to their winning- streak as they take on Oak Harbor at home at 3:00 pm.
About the Writer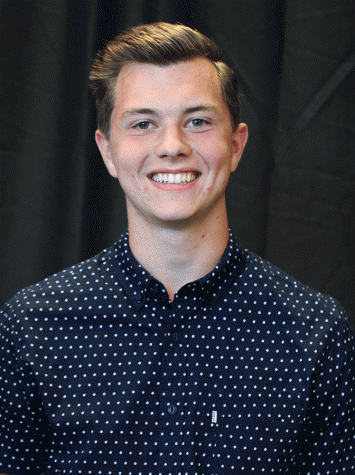 Sean McCauley, Reporter/Photographer
Sean is a senior at Arlington High School and plays tennis for the Eagles. Sean also participates in Knowledge Bowl, Investment Club, and German Club....