Arlington Girls' Dominate Against Stanwood, Clinch 3A North Title
The Arlington girls' basketball team slammed the door on the Stanwood Spartans in Wednesday night's matchup, beating the Spartans by a final score of 62-41.
Prior to the Eagles' victory, senior Emma Janousek said that Arlington's game plan was to "come out and stop them early." Janousek also said that the Eagles were "hoping for a good game."
The Eagles started off the first quarter slowly, and trailed by two points at the end of the corner. But after scoring 22 points in the second quarter, and heading to half time up by a score of 33-22, Arlington never looked back. Senior Sevi Bielser had six points in the half, while senior Gracie Castaneda had seven. Olivia Larson ('16) and Sarah Shortt ('16) both played extremely physical games, forcing Spartan turnovers left and right.
Coming out at halftime, the Eagles continued their dominance. And even as they maintained a lead in the double-digits for all of the second half, the Eagles never let up; they continued to play as if the score was reversed. Seniors Serafina Balderas and Castenada both had 11 points on the night, and, after last week's nineteen-point game, senior Jayla Russ had another excellent night, scoring 17.
"They came out strong in the first half," said sophomore Peyton Brown. "We came back and bounced back and got the win."
With the win, the Eagles clinch the 3A North Title and stay undefeated with their eighteenth win on the season. The Eagles will play their next game in Everett on Friday, before facing off against Marysville-Getchell at home next Tuesday.
Castaneda–11. Balderas–11. Shortt–6. Bielser–6. Larson–5. Janousek–4. Miears–2. Russ–17. Brown–0.
About the Contributor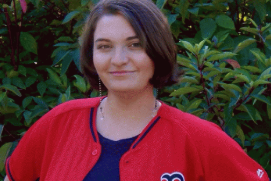 Hannah Martian, Editor-in-Chief
Hannah Martian is a senior at Arlington High School. She participates in Knowledge Bowl, Hi-Q, NHS, tennis, and is a senior class officer. She is the Editor-in-Chief...