Promising Eagles Combine Wise Leadership With Youthful Spark
The Arlington High School boys basketball team has a lot of young talent for the next couple years, as well as some veteran leaders stepping up to guide the underclassmen through the season. 
The team is carrying five sophomores this year, after carrying just one underclassman (then-freshman Leyton Martin) last season. Martin is joined by fellow tenth-graders Jake Willis, Kaid Hunter, Billy Kooy, and Jackson Trotter, and they have already made big contributions to Arlington's 3-1 record. "The underclassmen bring great things to our team," said senior center David Zachman. 
The mix of young talent and senior leadership has allowed Arlington to jump out to a fast start this season. They are tied with multiple other teams for first place in Wesco 3A. "I think our team is one of the best in our league," said senior forward Kaden Heiss. "I think we could play a lot better and make it to state this year."
With the young players already playing so well, the team seems set up for a promising next few seasons. "I think the program over the next two to three years has a chance to go a long way," said sophomore center Billy Kooy. "I think with our younger group we could really add on to it and we could be really good."
A team such as Arlington needs its older players to step up and set the tone for the younger players, an experience that Zachman has been able to be on both sides of the coin for. "We had nine seniors last year so I was always looking to them for what to do," he said. "Now I'm one of the ones the younger kids are looking at for advice."
Another senior leader is guard Ty Rusko. Junior forward Jacoby Falor said Rusko "has been a huge leader."
The team will look to continue their three game winning streak on Tuesday against Lynnwood, and potentially compete to win the league title. "I think it took us a game to get in the groove of things," said Falor, "but we are going to be very good."
Leave a Comment
About the Contributor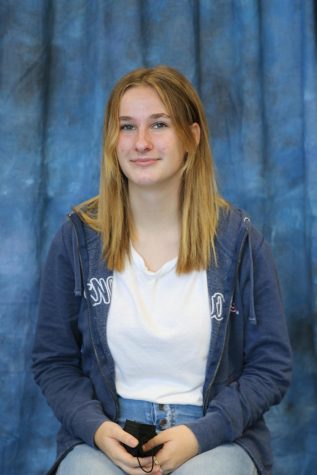 Chloe Falk
Chloe Falk is a freshman at Arlington High School and is a member of the Eagle News Media. She is also a member of the AHS writers club, and plans to attend Columbia University to major in Political Science. She is an avid sports fan, and is a member of the Arlington Girls Basketball program. She plans to stay in Eagle News Media for all four years of high school!