Struggles with Skyline
Tuesday September 12, varsity volleyball took on the Skyline Spartans at home. The Eagles started out strong in the first game, working hard on defense and preparing for the perfect kill. Reese Talbot ('20) started off the game by leading her team 5-0 with her powerful and consistent serves. She confessed that "even though it's scary being among the youngest players on the team, I am honored to be playing on varsity."
As time went on, the Eagles and Spartans shared multiple volleys across the net. After a few hard hits from Skyline, the Eagles were looking at a score of 14-17. Sarah Mekelburg ('19) and Alexis Zacher ('19) went up for a double block against Skyline and regained their hope to win. Following the impressive play, the Eagles miscommunicated and lost the first set 18-25.
After the first loss, the Eagles were determined to work hard and win the second. Arlington continued to fight a tough battle but still struggled 2-11 in the first half. Mary Catherine Meno ('18) reset the tone of the game after coming out of a timeout and repeatedly hitting from the back right position on the court.
Meno ('18) informed that "you have to have a positive mindset while playing two different positions." Arlington called two timeouts and continued to stay a safe distance in points behind their opponent, resulting in losing the second set 19-25.
At the start of game three, Arlington was determined to re-engage and come back stronger. Skyline was up for a fight, hammering Arlington with swings left and right. Unexpectedly, Caroline Diemer ('20) took a risk which ultimately resulted in a kill against Skyline and an increase in points 5-7. Arlington began to struggle with defense and didn't recover until Arianna Bilby ('20) made the crowd ecstatic with a single powerful kill! Arlington refused to give in but was unable to defeat the Spartans, leaving Skyline to take the match.
Following the match, head coach Whitney Williams explained how games like tonight are a learning curve for the team and they're only on the up and up. She aims to "continue progressing and peak by the end of the season."
Leave a Comment
About the Writer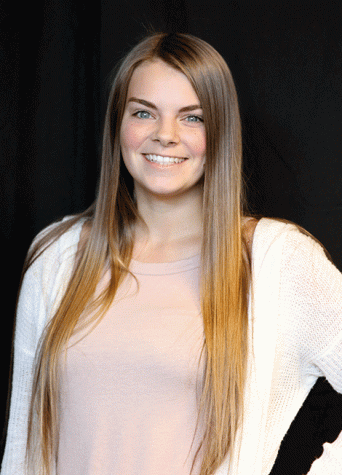 Jasmine Knowles, Staff reporter and photographer
Jasmine Knowles is a senior at Arlington High School. In her free time she likes to write, workout, and practice photography. She has been enrolled in National Honors Society since her sophomore year and enjoys donating her time to those in need. After high school she plans to further her education in psychology and personal training.