Eagles' Volleyball Handles Stanwood: Eyes on State
The Eagles outscored Stanwood 75-40 in 3 sets, leading the entire match wire-to-wire and, most importantly, continuing their undefeated season. It has been a year unprecedented in recent history for Eagles' volleyball, producing more excitement and postseason hope than that of many seasons prior.
Led by a flock of seniors, including setter Ally Peterson ('17), the team has dominated nearly every team in its path, leaving no doubt as to which side was dominant. That streak wasn't about to end tonight. Jessica Baker ('17) had more than her fair share of kills at the net, helping to inspire her teammates and the crowd, which seems to expand three-fold each home match. Baker, along with senior cohort Mackenzie Massey ('17), who dominated from the service line, were just two of the standouts on a loaded team brimming with depth who propel Arlington to victory week in and week out.
The Eagles, who, relying heavily on their strong senior efforts, have had their minds set on state participation since the beginning of the season, should build confidence (if that's even possible, at this point) after such a blowout against Stanwood. League postseason play begins quite shortly, so stay tuned to find out when and where you can watch them play with fire and determination.
Leave a Comment
About the Writer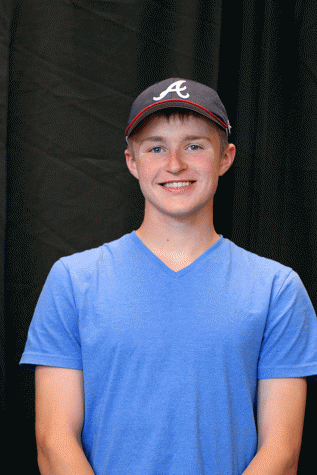 Nicholas Mendro, Reporter/ Photographer/ Sports Editor
Nick, a senior at Arlington High School, loves all facets of the sporting world. Currently, he plays an instrumental role in the ongoing dominance of the Arlington varsity tennis program and hopes to do the same in March for Coach Hunter and the track team. Off the courts, Nick also involves himself in other various opportunities on campus; he is currently in his fourth-year of Knowledge Bowl, quizzing every Monday afternoon. Fortunately for him, NHS meets on Thursdays rather than Mondays, adding to the hefty load Nick is supporting this senior year, including a demanding class schedule. Friday nights, on weeks when he isn't playing in the pep or marching band at football games, one might find Nick leisurely enjoying a hot can of soup or watching the Mariners. On Sundays, he maintains the sports trend, spending a whopping seven hours watching NFL RedZone and, most importantly, his beloved Seahawks. To further his childhood-enduring love of all things sports-related, Nick is pursuing a career in the field of sports analytics with his participation in A.P. Statistics. Look for Nick on your hallway commute and give him a wave or a smile!