Arlington Baseball Takes First Game in Series With Stanwood
Behind great pitching and solid defense, the Arlington Eagles boys' baseball team was able to defeat the Stanwood Spartans 2-1 in a three-game series on Tuesday afternoon.
Tristan Sheward ('17) started the scoring off for Arlington early in the game, lashing an RBI double to left field. But the Spartans were able to knot the game at one shortly after that, leaving it up to Arlington to get the lead back. In the fourth inning, they did just that.
After putting runners on first and second, the Eagles sent Drew Kalahar ('16) up to the plate to pinch-hit. Even though Kalahar struck out, the Eagles were able to load the bases and walk in the go-ahead run. The run would prove to be the deciding factor in the close-scoring game.
Pitcher Avery Kindred ('17) kept the Eagles in the ballgame until the very end, as the junior hurled seven complete innings of one-run ball. Arlington's defense also shined, as shortstop Jared Bailey ('17) made a great sprawling catch into left, and right fielder Daniel Smith ('16) had a sparkling diving catch in the outfield.
With the win, the Eagles move to 4-3 overall on the season, and 2-0 against league opponents. The Eagles will play tomorrow at Stanwood, before returning home on Thursday for the final game against the Spartans.
Leave a Comment
About the Contributor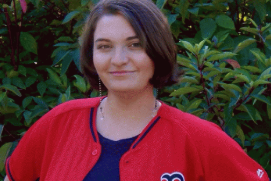 Hannah Martian, Editor-in-Chief
Hannah Martian is a senior at Arlington High School. She participates in Knowledge Bowl, Hi-Q, NHS, tennis, and is a senior class officer. She is the Editor-in-Chief of Arlington's website, The Eagle. She hopes to go to Washington State University, then into the publishing industry...or maybe she'll become a color commentator for professional baseball.