All the Singles Ladies: Arlington Tennis Upsets Snohomish in Singles-Driven 4-3 Win
It's no secret that the Arlington girls' tennis team hasn't done very well against the Snohomish Panthers in previous seasons. For the past four years, the Eagles have been swept by the Panthers. But this year, the tide shifted: Arlington bested Snohomish Friday afternoon by a final score of 4-3.
Layla Garduno Cravioto gets it done for Arlington! The Eagles upset Snohomish 4-3. @HeraldNetPreps @TheAHSEagle pic.twitter.com/ji2EQkcq0r

— Hannah Martian (@DramaHannahM) March 19, 2016
(The winning point of Layla Garduno-Craviato's match-winning set. Video by Aledia Garduno-Craviato.)
With several key injuries plaguing the team, the Eagles had to shift around their lineup. Most notably, junior Bethany Barnett was slotted in the #4 singles position, a spot that she also held on Wednesday in Arlington's 3-4 loss to Meadowdale. Barnett was able to win both sets by a score of 6-4.
For the #1 singles spot, Arlington looked to junior Livia-Valentina Markwart to bring home the win, and she did just that: After losing her first set 2-6, Markwart battled back to impressively beat her Snohomish opponent 6-1 and 6-0.
"I listened to my coach," said Markwart when asked what made her successful in her matches. "I played deep balls and didn't attack every ball."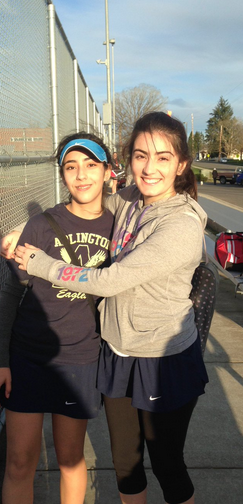 With losses coming from all three doubles teams, and a win from senior Aleida Garduno-Craviato, the Eagles had knotted up the match 3-3. It was up to Garduno-Craviato's sister, Layla, to wrap up the win for Arlington.
Layla faced off against Tessa Rugg from Snohomish. After she had dropped her first set 2-6, Layla battled back to take the second set 6-3. She had an early 3-0 lead in the third set, but Rugg quickly rallied to take the score to 3-2. Layla went up 5-2, but again, Rugg came back, bringing the score to 5-4.
The two were locked in a tight matchup, until Layla was able to edge out Rugg after a hard-fought battle on both sides. With Layla's win, the Eagles won the match 4-3.
"I'm glad that we won as a team," said Markwart.
In their next matchup, the Eagles will take on Mountlake Terrace at home on Tuesday at 3:30.
Singles:
1.) Livia-Valentina Markwart: 2-6, 6-1, 6-0.
2.) Layla Garduno-Craviato: 2-6, 6-3, 6-4.
3.) Aleida Gardun-Craviato: 6-1, 6-0.
4.) Bethany Barnett: 6-4, 6-4.
Doubles:
1.) Gigi Moss and Sierra Roach: 7-5, 4-6, 4-6.
2.) Evie Rolston and Faith Gould: 1-6, 1-6.
3.) Jessica Abraham and Ashley Kolbeck: 2-6, 3-6
Exhibition:
1.) Alayna Miller and Hannah Martian: 7-10.
2.) Alayna Miller and Diana Clarke: 0-6. 
Leave a Comment
About the Contributor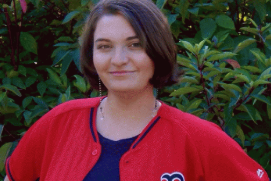 Hannah Martian, Editor-in-Chief
Hannah Martian is a senior at Arlington High School. She participates in Knowledge Bowl, Hi-Q, NHS, tennis, and is a senior class officer. She is the Editor-in-Chief of Arlington's website, The Eagle. She hopes to go to Washington State University, then into the publishing industry...or maybe she'll become a color commentator for professional baseball.