Girls' Tennis Victorious in Rain-Shortened First Match
In their first match of the season, the Arlington girls' tennis team defeated Mariner 5-0 before the match was called due to rain.
The Eagles sent out all four singles players and two of their doubles teams to start the match, and five were able to defeat their Mariner counterparts (the match played by the #2 singles player, Layla Garduno, was called early because of the rain). #1 singles player Livia-Valentina Markwart ('17) played well, going to her well-honed backhand often. Senior Lily Byum, who played #4 singles, also excelled in her match, winning both sets, 6-3 and 6-1.
The doubles teams also did well, with #1 doubles consisting of Gigi Moss ('16) and Sierra Roach ('17), and #2 doubles boasting juniors Bethany Barnett and Evie Rolston. Both doubles teams were able to sweep their matches.
Unfortunately, because of the inclement weather, the #3 doubles team (juniors Jessica Abraham and Faith Gould) and the Exhibition team (senior Hannah Martian and sophomore Ashley Kolbeck) did not get to finish their matches.
"I really liked my playing because of how well I worked with my partner," said Rolston, who won her doubles match 6-4 and 6-1. "I think we did really well playing together."
The Eagles will look to continue their early-season momentum on Wednesday, as they take on Meadowdale at home.
Singles:
• Win: Livia-Valentina Markwart; 6-2, 6-0.
• Incomplete: Layla Garduno, 7-5; N/A.
• Win: Aleiva Garduno; 6-3, 6-2.
• Win: Lily Bynum; 6-3, 6-1.
Doubles:
•Win: Gigi Moss and Sierra Roach; 6-2, 6-1.
•Win: Bethany Barnett and Evie Rolston; 6-4, 6-1.
•Incomplete: Jessica Abraham and Faith Gould; 2-0, N/A.
Exhibition:
•Incomplete: Hannah Martian and Ashley Kolbeck; 1-0, N/A.
Leave a Comment
About the Contributor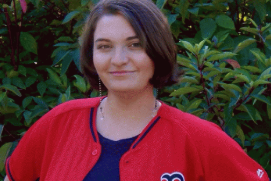 Hannah Martian, Editor-in-Chief
Hannah Martian is a senior at Arlington High School. She participates in Knowledge Bowl, Hi-Q, NHS, tennis, and is a senior class officer. She is the Editor-in-Chief of Arlington's website, The Eagle. She hopes to go to Washington State University, then into the publishing industry...or maybe she'll become a color commentator for professional baseball.