Eagles Volleyball Takes Down Getchell in Clean Sweep
At one point in the first set, the score was 9-8 in favor of the Marysville Getchell Chargers. That was their final lead of the match.
A raucous crowd of student rooters attended full-fledgedly to support its beloved Lady Eagles. They would not be satisfaction, as it became clear midway through the first set who the dominant faction would be.
When the score read 8-9, the Eagles, 2-1 and recent champions of a tournament on September 6, appeared to be a little shaky, perhaps nervous to start off the match. Fortunately, their young, vibrant coach, Whitney Williams, signalled for a timeout to "light a fire" under her potential Wesco league champs.
Coach Williams said that during the timeout she reminded her senior-heavy team of what they want to accomplish with their abundantly talented team. She inspired them to win with authority, placing themselves in the penultimate position for league and district champs, ultimately performing well at state. From that point on, the Eagles left little doubt as to who reigns champions of the greater Smokey Point region.
The team was – for lack of a better word – psyched after the victory. Hannah Michaels ('17), one of the myriad seniors on the team, felt beyond satisfied.
"We all fought our hardest for the victory. I'm proud of my team," Michaels responded with enthusiasm, unable to conceal her smile. Michaels was one of four players to serve an ace, acknowledging her dedication in practice as probable cause. Morgan Van Laar ('17) obliterated the Chargers at the net, contributing ten winners on flawless sets from senior captain Ally Peterson ('17), enough to lead the team in that category.
From the first serve to the last point, the contest was one of fiery competition and an enjoyable atmosphere. As student-rooter spectator Ren Rasar ('20) put it, "It got really intense. I really just love the atmosphere."
Leave a Comment
About the Writer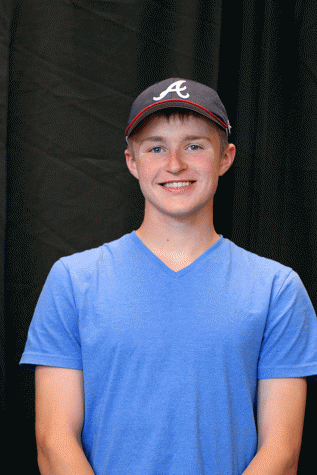 Nicholas Mendro, Reporter/ Photographer/ Sports Editor
Nick, a senior at Arlington High School, loves all facets of the sporting world. Currently, he plays an instrumental role in the ongoing dominance of the Arlington varsity tennis program and hopes to do the same in March for Coach Hunter and the track team. Off the courts, Nick also involves himself in other various opportunities on campus; he is currently in his fourth-year of Knowledge Bowl, quizzing every Monday afternoon. Fortunately for him, NHS meets on Thursdays rather than Mondays, adding to the hefty load Nick is supporting this senior year, including a demanding class schedule. Friday nights, on weeks when he isn't playing in the pep or marching band at football games, one might find Nick leisurely enjoying a hot can of soup or watching the Mariners. On Sundays, he maintains the sports trend, spending a whopping seven hours watching NFL RedZone and, most importantly, his beloved Seahawks. To further his childhood-enduring love of all things sports-related, Nick is pursuing a career in the field of sports analytics with his participation in A.P. Statistics. Look for Nick on your hallway commute and give him a wave or a smile!