Lake Stevens Downs Boys Varsity Tennis
In a tough match-up, Arlington Boy's Varsity Tennis team is defeated in their home opener by Lake Stevens 7-0 on September 8th. Tennis is a sport where singles or doubles compete against each other to win their match, to win the match they need to win two out of three sets. In order to win a set, a player or a team of two needs to win six games. A player needs four points (points called 15, 30, 40, and game point) to win a game, but they have to win by two if the game is tied at 40. Lake Stevens was able to win a total of seven matches compared to Arlington's zero.
To start off the first singles match, AHS senior Conner Fochesato was defeated by LS Palmer Hodges in two sets to win the match. The first set Hodges won 6-0 (read as 6 games to 0 games won in that set) and in the second set Hodges won 6-0. AHS sophomore Taras McCurdie was defeated by LS Fernando Campozano Mojik in two sets, Mojik was able to take both sets 6-0. In a close match, AHS freshman Vincent Loftis was defeated by LS Jonny Stoll in the two sets, the first set Stoll won 7-6 and the second set he won 6-4. In the last singles match, AHS senior Dominic Palmisano was defeated by LS Drew Sellars in two sets, the first set Sellars won 7-5 and won set two 6-1.
Moving into the first doubles match, AHS seniors Will Eckley and Dean Shepherd were defeated by LS's Chad Stevens and Jordan Huntley. Eckley and Shepherd were able to take the first set 6-3, but unfortunately lost the nexts two sets 6-1 and 6-2. The second doubles match, AHS junior Ben Spores and AHS sophomore Ben Nichols were defeated by LS's Kurt Lippman and Tyler Cochran. Nichols and Spores were able to dominate the first set and win 6-1, but lost the next two sets 6-2 and 6-4. In the finals double match, AHS sophomore Keaton McBride and AHS senior Johnathon Leon-Guerrero were defeated by LS's Kai Trann and Gavin Nelson. Trann and Nelson took set one 6-3, but McBride and Leon-Guerrero took set two 6-3, however the LS duo was able to take the final set 6-3.
Leave a Comment
About the Writer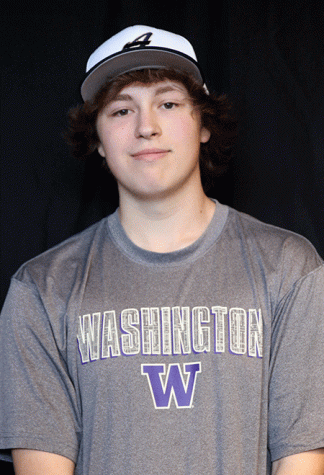 Dane Clark, Staff Reporter/Photographer
Dane Clark is a senior at Arlington High School and takes classes at EvCC. In his free time, he likes to help out with freshman football and go to work. He likes anything that involves sports. He hopes to attend university at Washington State University or University of Oregon.