Wrestling Defeats Oak Harbor Wildcats 52-17
Eagles Wrestling took on Oak Harbor Wildcats on January 12. Remaining undefeated, Arlington defeated the Wildcats with a whooping score of 52-17. Among the many uproars during the match, the longest was for Cole Hahn ('19).
The sophomore went into triple overtime. "This is the hardest match I've wrestled in my life," said Hahn. "I started out with the lead and then he came back, and I didn't really think he would so I didn't expect it. At the end of the third round I should've got up then I wouldn't have had to go into overtime." Still fighting to the end, the sophomore wrestler walked off the mat with a personal win of 6-5. He performed a two-point reversal that pushed him ahead by one. "I'm glad we work hard in practice and did sprints," said Hahn.
"Cole winning in trouble overtime was definitely the best pin of the night," said Junior Tucker Bovard. While normally on the mat himself, he finds himself unable to compete at the moment, which allowed him to support and view his team from a different angle. Bovard, focusing on himself during practice, was impressed with senior female wrestler Jordynn Mani. "She kind of caught me by surprised by how good she did because I don't really pay attention to anybody in practice, and she's coming up and wrestling with a dude. She did amazing."
Bovard isn't the only one who thinks this either. Head girls wrestling coach Smoots said, "Jordynn Mani has improved, especially in the past couple years, leaps and bounds. She hardly won a match her freshman year, and now, she's undefeated and beating most boys."
Smoots hopes to get "at least five girls to state and place eventually top ten in the state on the board. We will continue on conditioning and focusing on moves. Just fixing problems that we see."
About the Contributor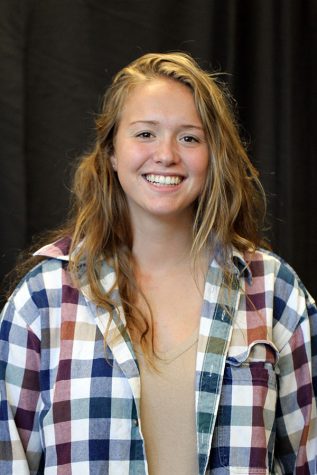 Jessica Abraham, Web Editor
Jessica Abraham is a senior at Arlington High School. During the fall, she competes in cross country, while in the spring, she plays tennis. She also finds...