Arlington Cross Country Concludes Season on a High Note
On Saturday, November 12, Arlington Cross Country met with dozen of other teams in Boise, Idaho at Eagle Island State Park for the NXR Northwest Regionals. For the boys varsity team, Kevin Mullin ('17) finished ninth with a time of 16:37. Following the senior runner was Blake Landry ('19) with a time of 17:03. "Today, I felt more confident than my last race at state," said Landry. With the season ending, the sophomore runner is already goal setting for next year. "I look forward to what our team can do, and I'm excited to see us keep our league and district wins. My goals for next year would be league champ and district champs or give Dawson a fight for the titles." Dawson Andrews ('18) finished three seconds after teammate Landry with a time 17:06. Noah Loftis ('19) finished fourth, followed by Eric Acero ('17) as Arlington's fifth runner, Favian Villanueva ('19) as Arlington's sixth, and Ryan Barene as the seventh. Arlington boys went on to take home the third place title with 244 points.
For the girls, Mary Andrews ('18) led her team, coming 10th overall in the girls varsity race with a time of 19:56. Not having a large student section, Andrews remained motivated by "saying don't settle and dream big," which will help her achieve her goal of breaking the school record. "I need to focus on not giving up and giving 110 percent every race." said Andrews. Following Andrews, Rachel Sherson finished 2nd for Arlington, Jensyn Smith ('20) finished 3rd, Kelsey Mutton ('19) finished 4th, and Hannah Johnson ('20) finished 5th. "It was a pretty successful season overall for me and the whole team," said Andrews. "It's bittersweet because we get to go on fat and happy, but then the seasons over at the same time."
With the cross country season coming to an end, Landry reflects, "this season as a whole has been super fun and a great learning experience. Our team has proved to people we can do what they never thought we could after losing so many amazing athletes, and we have proved to ourselves that we have much more to come. It's a little upsetting to know my XC experience at AHS is getting closer to an end, but am grateful for another amazing season."
Leave a Comment
About the Contributor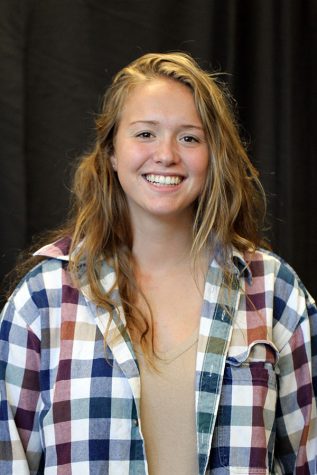 Jessica Abraham, Web Editor
Jessica Abraham is a senior at Arlington High School. During the fall, she competes in cross country, while in the spring, she plays tennis. She also finds herself president of the Ecology Club. Between sports and homework, she spends her time working at a produce stand. Next year, Jess strives to attend the Loyola Marymount University in Los Angeles and get a degree in communications.