Putting the "Foc" in Focus
October 11, 2016
It's been a new year for Eagles boys' tennis. After a dismal 5-9 season in 2015, Arlington used major improvements from a fully returned varsity squad to tie for second in Wesco at 12-4, having lost just one senior after last year's campaign. The team has found a new groove, and its focal point has been junior Conner Fochesato ('18). In only his second year on varsity. Conner, or as he's infamously known on the courts, "The Foc," made a massive leap from swing player – fourteenth on the tennis team last season – to a solid number four player, epitomizing the Eagles' rejuvenated record in one individual stretch of talent and endurance.
When I asked The Foc about his recent accomplishments, he demonstrated his humility and ambition at once. "I just had a chip on my shoulder," he said. "I wanted to prove to everyone that I can play a top spot." And play a top spot he did, finishing off the season Tuesday, October 11, with a 10-6 record against tough opponents. However, anything of value in life doesn't come easy.
Second-year coach Ben Mendro was overflowing with praise for his developing star. "Conner just did a lot of work in the offseason to make him a better player . . . I think he can hit with more power, with a little bit more powerful of a serve." He says Fochesato should be a monument for younger players to admire. "Look at how he took the initiative to improve himself. He didn't make assumptions that he'd magically improve . . . had to put work in."
So, what did "The Foc" do to improve so radically? "Over summer, I wanted to focus on tennis. I took lessons with Kim Somerville, a local tennis pro. Tennis was never easy to understand until those lessons." He was willing to forego his precious free time in the summer to pursue a sport of his desire, a place where he dreamed of improvement and future glory. In his own words, "First off, state's the goal." Like everything else, though, Conner knows it won't come easy. "I'm gonna have to work a lot again this summer."
Junior Varsity coach Shelley Lima, standing nearby, overheard our interview and couldn't resist chiming in on Fochesato's behalf. "He's the sweetest player – deferential, congratulatory of his opponents. He's always offering to help." Obviously, Fochesato is more than just a competitor. He's an upstanding citizen of Arlington High. "Oh, yeah," said Lima, "Conner is the ultimate role model."
Leave a Comment
About the Writer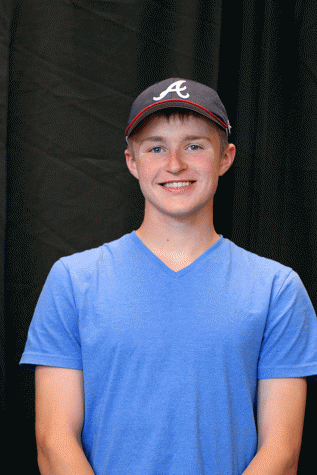 Nicholas Mendro, Reporter/ Photographer/ Sports Editor
Nick, a senior at Arlington High School, loves all facets of the sporting world. Currently, he plays an instrumental role in the ongoing dominance of the Arlington varsity tennis program and hopes to do the same in March for Coach Hunter and the track team. Off the courts, Nick also involves himself in other various opportunities on campus; he is currently in his fourth-year of Knowledge Bowl, quizzing every Monday afternoon. Fortunately for him, NHS meets on Thursdays rather than Mondays, adding to the hefty load Nick is supporting this senior year, including a demanding class schedule. Friday nights, on weeks when he isn't playing in the pep or marching band at football games, one might find Nick leisurely enjoying a hot can of soup or watching the Mariners. On Sundays, he maintains the sports trend, spending a whopping seven hours watching NFL RedZone and, most importantly, his beloved Seahawks. To further his childhood-enduring love of all things sports-related, Nick is pursuing a career in the field of sports analytics with his participation in A.P. Statistics. Look for Nick on your hallway commute and give him a wave or a smile!