Varsity Girls Basketball: Arlington vs. Woodinville – 11/27
Arlington Girls Basketball played Woodinville girls on Monday, November 27, 2017. The Eagles were home for both teams' first official game in the school pre-season.
For the Arlington Eagles, starters were Kelsey Mellick ('18), Katie Hunkins ('20), Sierra Scheppele ('20), Peyton Brown ('18), and Josie Stupey ('21).
The Woodinville Falcons started Alena Coomar ('18), Madison Lundquist ('18), Madison Dubois ('19), Mia Hughes ('21), and Regan Schenck ('18).
Regan Schenck is a D1 player and scored a total of 12 points for her team against the Eagles. She took shots from outside the three and drove the ball all the way to the hoop for easy layups.
On the other hand, the Eagles' Peyton Brown has appeared in multiple newspapers for her skill and hard work and contributed a total of 11 points for the Eagles. Peyton Brown has been on the varsity team since her freshman year and continues to score and make plays.
Falcon player Mia Hughes is a freshman on Woodinville's varsity team and scored a total of 19 points for her team. At the same time, for the Eagles, freshman Josie Stupey also scored for a total of 7 points and freshman Hailey Hiatt ('21) scored a total of 10 points. All three girls experienced their first high school varsity basketball game as freshmen.
Woodinville players Dubois, Lundquist, and Coomar scored for their team as well as Rachel Moscate ('19), Nikki Zaback ('18), and Katie Minnehan ('19).
Starters Scheppele, Hunkins, and Mellick scored with Brown and Stupey. Hiatt, Maciee Delaney ('18), Georgia Arnold ('20), and Abby Schwark ('21), a freshman swing player, also contributed points.
Both teams made great plays to finish Arlington with 14 points and Woodinville with 17 points in the first quarter (14-17).
By the end of the first half, Arlington had scored 25 points and Woodinville's Rachel Moscate had swished a buzzer-beater three-pointer to give them 34 points (25-34).
At the start of the fourth quarter, Arlington had 38 points and Woodinville had 55 points (38-55). The Arlington girls finished off the game with 50 points and Woodinville finished with a score of 73 (50-73).
Even though the Eagles lost, both teams had great highlights that they can now build off of the rest of the season.
About the Writer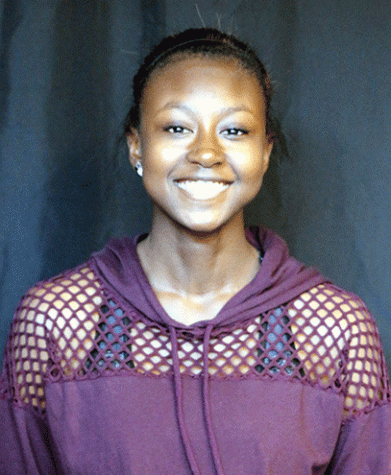 Imani Jackson, Staff Reporter and Photographer
Imani Jackson is a junior at Arlington High School. She is an AHS staff writer and photographer. Imani is a member of National Honors Society (NHS) and...