Never Shout Never Concert Review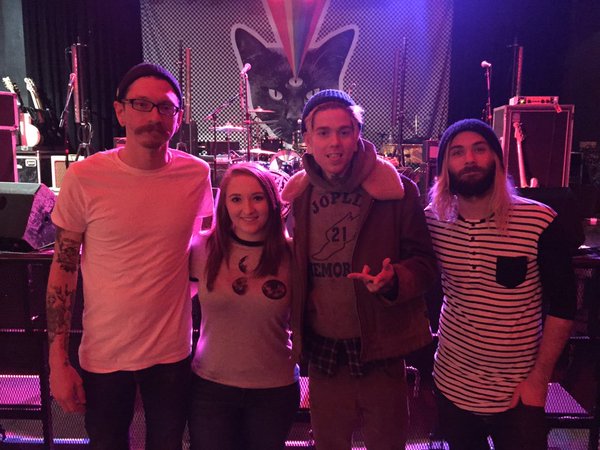 Never Shout Never is an "indie-rock" band from Joplin, Missouri. Although the band has had member changes in the past, current members are Christofer Drew, Taylor MacFee, and Hayden Kaiser. On August 7th the band released their 6th album entitled "Black Cat," which was the album they were touring. The Black Cat Tour kicked off on the 13th of January in Dallas, Texas and will conclude on February 27th in Lawrence, Kansas. In between Dallas and Lawrence, the tour made a stop in Seattle, Washington on Tuesday, January 26th at the Showbox.
I purchased VIP tickets for the show and was told to be there by 6 o'clock Tuesday night. My friend and I arrived at the venue at about 3 PM and were first in line. Once they escorted the VIP line inside to meet the band, they lined us up along a wall and one by one we went up to the band to get our pictures taken. After tripping and making a complete fool of myself right in front of Taylor, Christofer, and Hayden, I got my photo taken, exchanged some words with them, and then was escorted back to another line to wait until we were allowed to go up where the stage was.
After they scanned our tickets and we were able to make our way to the floor, I made sure to place myself in the center of the stage in order to get the best experience possible. The show, while started at about 8, began with a band out of Houston, Texas called Waterparks, followed by Jule Vera from Opelika, AL. Although I wasn't very familiar with their music prior to attending the show, I can definitely say that I am a fan of them now.
Metro Station was the third band to go on the stage, and since the crowd was more familiar with their music the energy levels increased by a very large amount. The band, who went on a hiatus in 2010 and returned in 2014, proved that they are no stranger to being on stage. Although I wouldn't identify myself as a Metro Station fan, I still feel as if the band's set was really good — especially when they sang their song "Shake It," which is their most popular song.
At 10:35 the moment we had all been waiting for finally arrived. Never Shout Never appeared on the stage and the crowd erupted. They began by singing "Piggy Bank," which is from their 2010 album, Harmony. Throughout the show, Christofer was interacting with the crowd which showed how much he truly appreciates those who support him and what his band has done throughout the years.
Something that stood out to me was when about halfway through the show, one fan exclaimed something regarding her wishing she could do what he does but she can't due to her "lack of talent," Christofer's attention was drawn to her. Instead of just laughing the comment off, he responded by telling the girl, "Just as long as you follow your dreams and aspirations and believe in yourself, everything will be okay."
The band played a total of 14 songs, and closed out with "Time Travel" at nearly midnight. Although it was late, all three opening bands took the time to meet, take pictures, and speak with every single person that approached them which I respected a lot.
Aside from the nine photographers who were shuffling back and forth in front of everyone for the first few songs while each band was performing and often getting in the way of my what was originally a perfect view, I would rate the concert a 10/10. The show was fairly laid back, and every fan that I had encountered was nothing but kind.
This was the first time I've seen Never Shout Never live, and I can say that I will be purchasing tickets again next time they make their way to Seattle. There's nothing better than being surrounded by people who share the same love for music and a band as you. On that night, as everyone around me was singing along to the songs, you could feel the love and passion circulating throughout the entire venue.
About the Contributor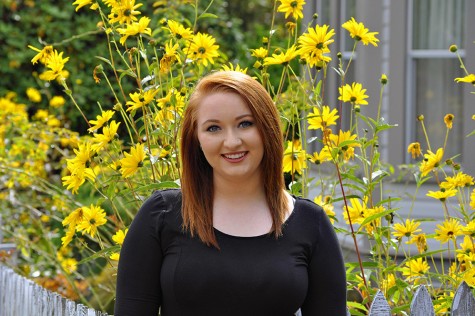 Sami Balcos, Photo Editor
Sami Balcos is a senior at Arlington High School.

She is involved in photography club and enjoys going to sporting events to support her school.

She...