Oktoberfest Fall-ow Up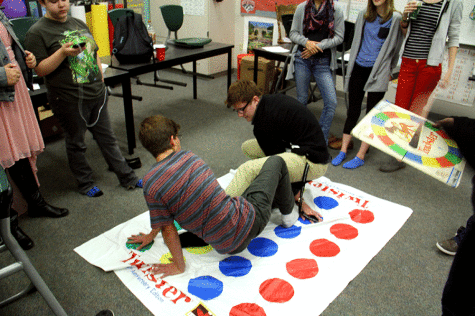 In this hemisphere, most kids were gearing up for Halloween in mid-October. But across the Atlantic, in "Deutschland", the monthly holliday is Oktoberfest. As such, AHS's German Club threw a parallel celebration on Thursday, October 23rd.
Students from all language clubs and some outsiders attended. Foods considered authentic German fare were brought by attendees.
Herr Mendro, the advisor, said that this year's celebration was "surprisingly well attended and enthusiastically participated in". That is not to say that Oktoberfest is usually unpopular, but it was noted by Herr Mendro that the "German's weren't here. Odd years they are here", which contributes a lot to turn out.
The primarily underclassman participants seemed to enjoy the event immensely. Jon Konecny '17 mentioned his favorite elements like the "Apfel Sörle" which is "the apple juice and mineral water stuff", and the spontaneously spawned game of Twister. "It was real fun 'accidentally' learning some German words for colors and body parts while playing Twister", he said.
The increased festiveness of Oktoberfest in recent years may continue to grow. As Herr Mendro said, "I have a strong group of leadership in my German club Sophomores".
Konecny, in conclusion to the topic, simply said he was "definitely glad to have gone".