I'm Dreaming of a Flight Christmas
The Byrnes Performing Arts Center was packed on Friday night for the opening of Flight's "It's a Wonderful Arlington Christmas Show." The performance was Mr. Swansons most extensively choreographed production in his two years at Arlington. After experiencing two changes in choir directors in 5 years, Mr. Swanson was very pleased with how all of their hard work paid off on opening night.
"We worked on [the show] for two and a half months,'' Mr. Swanson said. "We are excited about how it went and we are looking forward to next weekend."
The show featured several soloists including Parker Gliessman (Junior), who sang "Blue Christmas," Josh Basher (Junior), who sang "Christmas (Baby Please Come Home)," and Hannah Scarth (Senior), who took on Mariah Carey's "All I Want For Christmas Is You."
Other notable features include Robbie Neeleman (Sophomore), on the drums who had the crowd laughing on multiple occasions. Madison Shimpf (Sophomore), whom had a jazzy scat solo on "Cool Yule," and Michael Forster (Senior), whom sang his first solo in his first Flight performance.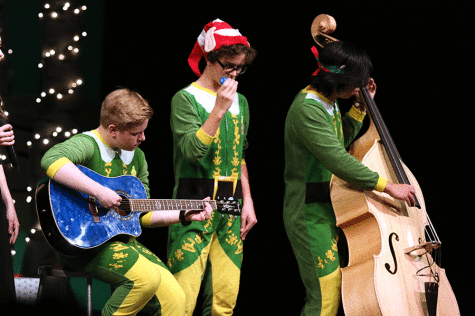 The singers shared the stage with Pioneer Elementary School's choir at the end of the performance, and sang "God Bless Us Everyone."
"It was a lot of fun. I'm extremely happy with how it went,'' said Sande Keyes (Senior).
The final performance dates are on Friday, December 12th at 7:00pm, and two shows on Saturday the 13th at 3:00 and 7:00pm. Tickets are available at the door or online at http://byrnesperformingarts.org. $9 for adults and students and $6 for seniors.