A National Problem: Inconsistent Scheduling is Leading To Problems in MLB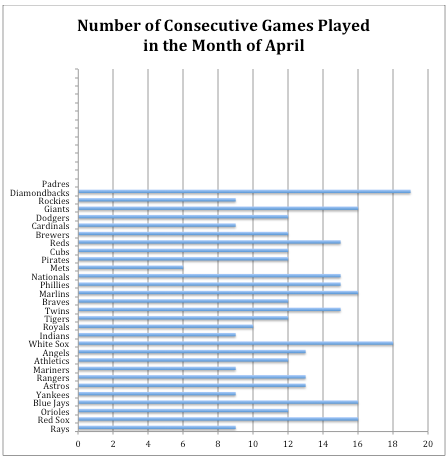 In ESPN's latest baseball power rankings, the Washington Nationals are ranked as the second best team in professional baseball. With a record of 14-4 as of  Monday–which is when the rankings came out–it would be an easy pick to have the Nationals ranked so high…at first glance.
Here's the problem with the Nationals' ranking: They've yet to play a real team. What I mean by that is that they haven't played a team who was over .500 entering the series in the entire month, during which they've played 21 games. They'll face the St. Louis Cardinals tomorrow, a team that's 12-9 so far this season, which will be the first real challenge they'll have to endure all season.
So far this year, the Nationals schedule has unfurled like so:
• 6 games against the Atlanta Braves (Current Record: 4-17)
• 6 games against the Miami Marlins (Current Record: 9-11)
• 6 games against the Philadelphia Phillies (Current Record: 11-10; entering the current series against Washington they were 9-10)
• 3 games against the Minnesota Twins (Current Record: 7-15)
It seems unfair that a team gets such a light schedule to start the year off, especially when the Mets, who are in the same division as the Nationals, have faced the Royals and the Indians, who have records of 12-9 and 10-9 respectively.
But the scheduling problems in MLB reach far beyond the Nationals. The amount of consecutive games that teams will play in April varies drastically from team to team. It also seems unfair that the Mets will have to play, at most, 6 games in a row this month, while the Arizona Diamondbacks will have to play a whopping 19 games in a row.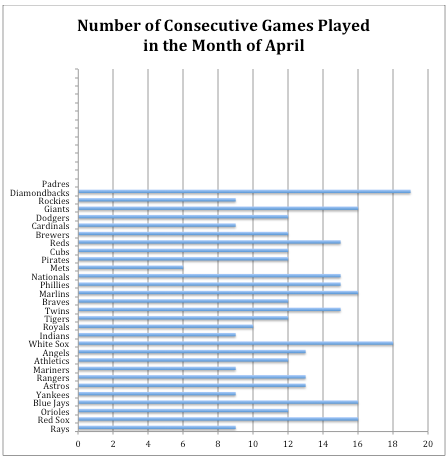 The toll that this many games can take on a team is undeniable, especially if a team's starting rotation isn't performing well. The Boston Red Sox are currently in the middle of a 17-consecutive game span. In the past 13 games, the Red Sox bullpen has combined for 45 & 2/3 innings, with two of those games going into extra innings. Even with a day or two in between games, that's a lot of innings to ask your bullpen to eat up for you. Without rest or allowing for a travel day, that's a daunting task for a bullpen that definitely experienced some fatigue at the end of last year's season.
So what's the answer? Is it simply for Boston's starters to pitch better, and let their bullpen get some rest? In today's world, a good start by a starting pitcher usually lasts 7 innings. But not every guy in your rotation is going to give you seven innings of work; there are gonna be times when they falter or when a guy from Triple A or the bullpen is going to have to make a spot-start. The bullpen is going to have to work hard somedays just to salvage a game, and having to play so many games in a row is a heavy burden to bear.
But what about the teams that don't have to play 17 games in a row? What about a team like the Tampa Bay Rays, who's longest consecutive games streak in April was 9? They only had to put together a four-man rotation up until April 16th because of days off and rainouts. So far this month, only twice have they had to pitch someone other then Archer, Smyly, Odorizzi, or Moore. Because of this, the Rays are able to structure their team differently, and are able to get their ace out there more, even though he's still got five days of rest.
Inconsistent scheduling is effecting teams all over MLB. So hold off on voting an all Washington Nationals All-Star ballot until they've actually played a team that offers them a challenge—and maybe one that's not in the midst of playing 16 consecutive games.
Leave a Comment
About the Contributor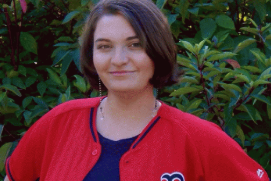 Hannah Martian, Editor-in-Chief
Hannah Martian is a senior at Arlington High School. She participates in Knowledge Bowl, Hi-Q, NHS, tennis, and is a senior class officer. She is the Editor-in-Chief of Arlington's website, The Eagle. She hopes to go to Washington State University, then into the publishing industry...or maybe she'll become a color commentator for professional baseball.