MLB Divisional Preview: NL Central

NL Central
The NL Central is an odd division, because of the fact that there are three top teams who could easily win 100 games, and then there are two bottom teams who could easily lose 100 games. It's going to be a fantastic division to watch, however, and who comes out on top could come down to injuries and winning streaks.
• St. Louis Cardinals (100-62): The St. Louis Cardinals have been one of the best and most consistent teams in MLB–but that's about to change. It was some sort of miracle that they managed to win 100 games last year with an injured Adam Wainwright, especially in such a tough division. But one of the reasons that the Cards have been so good for so long is the lack of talent in the division; the Pirates, Cubs, Brewers, and Reds have all been bad for a while, so it's been easy for the Cardinals to cruise by them. But with the Pirates and the Cubs both becoming powerhouse teams, the Cardinals had to make some improvements in the off season, and they…well, they quite simply didn't. They lost both John Lackey and Jason Heyward to those very Cubs, but still have a stout rotation–the best one in the division, in my opinion–with Wainwright, Lance Lynn, and Mike Leake. Michael Wacha is also in the mix, though he hasn't done much since the 2013 season because of injury. They also have two very good rookies in Stephen Piscotty and Randal Grichuk, and one of the best second basemen in Matt Carpenter. This is a good team, but with some holes, especially when it comes to the outfield. In any other division, they'd be the favorites for winning outright or. But with the Pirates and the Cubs being what they are, I just don't think the Cardinals are going to win this division this year. Look for the Cards to continue their winning ways, but have to battle for their postseason lives in the Wild Card game.
• Pittsburgh Pirates (98-64): The Pirates had another great 2015 season, but it ended the same way that it has in the previous year: Losing in the NL Wild Card game. With the Cubs being what they are this year, another trip to the Wild Card game looks inevitable–but that, similarly to the Cardinals, in no way means that this team is bad. They've got some dynamic young players in Gregory Polanco, Josh Harrison, and Jung Ho Kang, and a new-and-improved pitching staff that features ace Gerrit Cole, solid two-man Fransisco Liriano and an excellent pickup from the Mets, Jon Niese. Mark Melancon holds down the bullpen, while Starling Marte and NL MVP Andrew McCutchen make up a stellar outfield. The Pirates will once again be a tough team, and, if the Cubs falter, could make a play for the division title.
• Chicago Cubs (97-65): Okay, so I'm just gonna go ahead and say this: The Cubs scare me. And they should scare you, too, if you're a fan of anyone other than the Cubs. They were already good last year, and now they've gone out and got John Lackey, Jason Heyward, and Ben Zobrist. The three-headed monster that the Cubs have constructed in Jake Arrieta, Jon Lester, and now Lackey is menacing enough, but then you look at a lineup that includes Anthony Rizzo, Kris Bryant, Zobrist, Heyward…and you just sigh and mutter to yourself, "Why isn't my team this good?" If the Cubs have a fault, it's gonna be the bullpen. Adam Warren was a nice pickup from the Yankees, and dropping Fernando Rodney was also a smart move (Mariners fans can definitely attest to this one). If the Cubs can get another piece (say, Andrew Miller from the Yanks) it's a pretty safe bet that this team is gonna win 100 games. But if this team falters at all, the Pirates and Cardinals will be hot on their heels for that division crown.
• Milwaukee Brewers (68-94): It's a rare division that can be named one of the best when two teams are firmly in the cellar, and the Brewers are one of the latter. After trading most of their pieces away, and Jonathan Lucroy very vocally wanting to leave, it's a safe bet that the Brewers aren't gonna be much of a team this year. I can't see Lucroy being around past the All-Star break, which leaves them with one star in Ryan Braun, who after two positive PED tests–let's face it: It was two, no matter what the lawyers or the players' union wants to say–isn't the same player he was when on steroids (shockingly). But with the Reds improving their team better then the Brewers, it looks like this team will be hanging out in the cellar for not only this season, but many to come.
• Cincinnati Reds (62-98): Another team that traded their most valuable pieces away with Todd Fraizer and Aroldis Chapman–who ended up being more a liability and less of a valuable piece after that domestic-violence incident–that will be in the cellar of the NL Central is the Cincinnati Reds. While it was only two seasons ago that they made it to the NL Wild Card game, it seems like an eternity ago; now with Brandon Phillips and Joey Votto–who have yet to have the true "All Star" seasons that we've been promised–left at the helm, this team is only slightly better then the Brewers. But all is not lost; they've made some great improvements in the prospect department, so in a few years this team will be ready to compete. But for this season–and probably the next two–don't expect much of this Reds' squad.
1.) Chicago Cubs
2.) Pittsburgh Pirates
3.) St. Louis Cardinals
4.) Cincinnati Reds

5.) Milwaukee Brewers

Leave a Comment
About the Contributor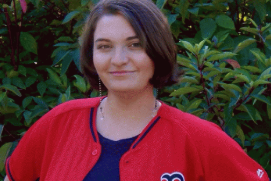 Hannah Martian, Editor-in-Chief
Hannah Martian is a senior at Arlington High School. She participates in Knowledge Bowl, Hi-Q, NHS, tennis, and is a senior class officer. She is the Editor-in-Chief of Arlington's website, The Eagle. She hopes to go to Washington State University, then into the publishing industry...or maybe she'll become a color commentator for professional baseball.