MLB Divisional Preview: NL East

NL East
The NL East is one of the weaker teams in baseball, largely due to the fact that two teams are firmly in the rebuilding stage and one team is shaping up to be a powerhouse in the division. What was an increasingly interesting division last season is pretty much all ready determined this year. Still, I'm taking a look at all the teams in the division.
• New York Mets (90-72): The Mets had a phenomenal season last year, and were on the brink of winning the World Series when one wrong pitching decision cost them everything (I'm still upset about the Harvey debacle to be honest, though.) Even though they traded Jonathon Niese to the Pirates, they've got one of the best rotations in baseball with the aforementioned Matt Harvey leading the pack, followed by Jacob DeGrom, Noah Syndergaard, and Stephen Matz. David Wright is a great team player at third, and Lucas Duda has good power at first. The Mets' outfield is also stellar, with Curtis Granderson, Juan Legaras, and, of course, Yoenis Cespedes. The bullpen could prove to be problematic for the Mets, but acquiring Addison Reed was a good step in the right direction. Look for the Mets to have a deep postseason run this season too—and maybe they'll go the bullpen a bit more frequently.
• Washington Nationals (83-79): The Nationals were one of the most disappointing teams last season, even though they finished in second place. With weapons like Max Scherzer, Jordan Zimmerman, and NL MVP Bryce Harper all in their arsenal, this team was an easy pick for the postseason…until they weren't. The Nats fell apart in the late stages of the season, proving that no matter how good your rotation is, hitting counts just as much. They'll get another fantastic season out of both Scherzer and Harper, but the splashy signing of David Murphy seemed to be a bit sudden, and they've still got Jonathan Papelbon on the roster, who, no one seemed to appreciate very much, and that was before he jumped Harper in the dugout. Their rotation will be strong once again, but they lack depth and bats all around the field, particularly in the middle infield and the catching positions. With such a strong NL Central, it's hard to imagine that the Nationals will be doing much better then another lackluster season.
• Miami Marlins (71-91): The Marlins, much like the Nationals, had a disappointing 2015 season. With the mega signing of Giancarlo Stanton and the much-touted pitcher in Jose Fernandez, this team was a dark horse pick that just ultimately didn't pan out. When healthy, Fernandez is a dynamic pitcher—but he is very rarely healthy, and Stanton faces similar problems. Dee Gordon is a great second basemen, who really held this team together last year. Their outfield is also pretty strong, with Stanton, Marcel Ozuna, and Christian Yelich, but the same can't be said for their infield. This team lacks offense and a good bullpen, which is why they're my pick for third again this season.
• Atlanta Braves (67-95): For so long the Braves have been so good, but that's no longer the case. They've traded away Craig Kimbrel, the Upton brothers, and Shelby Miller, and now are left with prospects. They've still got Freddie Freeman, as well as Nick Markakis and Jason Grilli, but that's really about it. This team is firmly in the rebuilding stages, and are hoping to get back to the winning ways of the Smoltz/Maddux era.
• Philadelphia Phillies (63-99): Oh, the Phillies. Seven years after their most recent World Series victory, this team is really just a mess. They've got Ryan Howard, who isn't the superstar he was during the Phillies' glory days, and the rest of the team is just kind of…meh. The Phillies are one of the worst teams in baseball, and as they stock up on prospects, they'll continue their losing ways for sure this season.
Overall Standings:
1.) New York Mets
2.) Washington Nationals
3.) Miami Marlins
4.) Atlanta Braves
5.) Philadelphia Phillies 
Leave a Comment
About the Contributor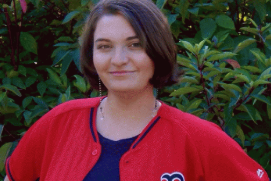 Hannah Martian, Editor-in-Chief
Hannah Martian is a senior at Arlington High School. She participates in Knowledge Bowl, Hi-Q, NHS, tennis, and is a senior class officer. She is the Editor-in-Chief of Arlington's website, The Eagle. She hopes to go to Washington State University, then into the publishing industry...or maybe she'll become a color commentator for professional baseball.