An Ode to the Progressive Environmental Movement
With a little under two months until Trump's inauguration, environmentalist everywhere are asking the same questions: is he really going to do what he says he is? Committing to cutting out the EPA, removing coal regulation, and pulling out the Paris Agreement, Trump has made it obvious that his main concern is anything except for the preservation of the earth. "I question his environmental agenda," said environmental science teacher and ecology club advisor Haifa Iversen. "We're still going to have climate change. We're just trying to prevent the worst part of it. If we go over two degrees, we will see coral reefs collapse, greenland melt, methane thaw and be released from permafrost, and food systems and agriculture collapse as well as more drought and extreme weather."
In December of last year, the Paris Agreement was signed by 195 countries at the 2015 Paris Climate Conference. The United States agreed to pursue the common goal of limiting the earth's warming to two-degrees celsius, which would slow the effects of climate change. While Trump can't easily pull the US out of the agreement, he can easily just not fund it. "The pledges are voluntary," said Iversen. "I don't know how much the United States has pledged, but the other developing countries together have pledged 100 billion dollars. If the US backs out, they could be taking away a portion of that away. And then the United States wouldn't be following what we said we were in the agreement either, meaning increasing alternative energy, reducing fossil fuel use. If we go over that we're going to reach irreversible tipping points, so that's the whole reason behind the paris accord. The agreement has a long term goal of zero emissions.
This is why, like Iversen, Colin Watts ('17) is worried about the United States backing out of the Paris Agreement. "We're the second greatest polluter in the world, and if we start backing out, other nations will undoubtedly follow," said Watts. "The environment will be at an even greater risk than it was before. With trump's rhetoric, there is no doubt that the average temperature will rise by more than 2° celsius."
If we continue on this path, we will "experience changing climate systems that affect our health, our forest, our agriculture, fresh water supply, coastlines, which all would impact the economy. Agriculture with warming temperatures could affect crop yields. Increasing temperature would mean water shortages. Changing temperatures and precipitation could destroy habitats and affect survival of species. Sea level rising along the coast would affect people living there– also along the rivers. Longer lasting heat waves, drier summers, more wildfires," said Iversen. "It can definitely impact people's jobs. If they're in the forestry industry and a fire wipes out a tree farm that would affect logging. If they're in the agriculture industry, there could be less jobs if there's a drought as that would affect crop yields. I know that was an issue in Eastern Washington because we didn't have enough water since there wasn't enough snowpack."
In the face of this threatening danger, "a lot of people think that one person can't make a difference. But with all of us together, each of us individually recycling, each of us individually planting a tree, each of us individually consuming less meat has a really big impact with seven billion people on the planet. So we have a lot of power in just one of us. One of can educate another person. We can pass that information on, motivate each other. I mean we've already saved 15,000 water bottles. It's one person and one water bottle, but when you add it up, it's powerful."
Senior Christine McAlvey ('17), ecology club public relations manager and Trump supporter said, "students can do anything to help the environment from recycling your water bottles at school or participating in the portage creek annual clean up. They can become more involved with helping the environment."
"We can help by petitioning against anti-environmental legislation and using our voices as citizens to force our government to work in our favor," said Watts. "We must do whatever it takes to ensure our future is secure. Our world is currently the only home we have. If we burn it to the ground we won't have anywhere to run to. This isn't just some little political issue, this is a global issue that concerns all of us and is being borders. We are all – black white,democrat or republican, American or not – united in the severity and immediacy of our environment and we must work together to secure the future."
About the Writer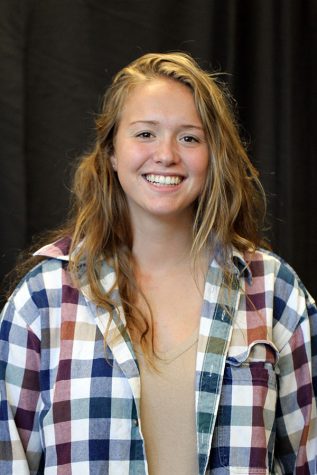 Jessica Abraham, Web Editor
Jessica Abraham is a senior at Arlington High School. During the fall, she competes in cross country, while in the spring, she plays tennis. She also finds...