AHS DECA Celebrates DECA Pro Sports Day With the Mariners
On this past Wednesday, you could find about seventy Arlington High School DECA students in a pretty nice place: At a Seattle Mariners game.
The students were there to celebrate DECA Pro Sports Day, an annual event where DECA chapters from across the Pacific Northwest come to Safeco Field to learn from Mariners professionals. A wide array of Mariners staff spoke with the DECA students, ranging from the Social Media Coordinator to Mariners broadcaster Aaron Goldsmith. After the staff offered brief bios and explanations of their jobs, a question and answer session took place. Students were then treated to a hot dog lunch, and were able to take in a baseball game, as the Mariners bested the Texas Rangers 4-2 in a thrilling extra innings game.
One of the biggest highlights of the day, however, was the pre-game ceremony. As Arlington's DECA group was the largest of all the schools participating in the event, the Mariners asked Arlington to throw out the first pitch–and senior Megan Chapman got the honor.
"It happened really fast," said Chapman of the experience. "It was exciting."
Alongside Chapman were juniors Rachel Hunter and Edward Radion. While they weren't allowed to go out onto the mound, they did get the opportunity to walk on the field.
Senior Sarai Munoz, who is also the CEO of Arlington's DECA store, enjoyed the experience immensely and said that she learned a lot from the Mariners. "Sometimes you gotta put other people first," she said as to what she took away from the day.
Leave a Comment
About the Contributor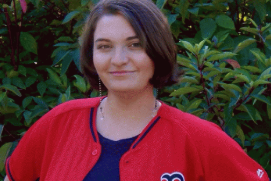 Hannah Martian, Editor-in-Chief
Hannah Martian is a senior at Arlington High School. She participates in Knowledge Bowl, Hi-Q, NHS, tennis, and is a senior class officer. She is the Editor-in-Chief of Arlington's website, The Eagle. She hopes to go to Washington State University, then into the publishing industry...or maybe she'll become a color commentator for professional baseball.