The Cost of Success: The Dominance of the UConn Women's Basketball Program and Its Effect on the Game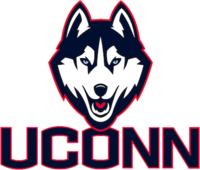 March is synonymous with a lot of things: the start of spring, Easter, and, perhaps most notably, March Madness.
And this year is no different. According to Fortune.com, approximately 70 million March Madness brackets will be filled out and $9.2 billion dollars will be place on bets in 2016.  But recent controversy has erupted over one team in particular on the women's side: The University of Connecticut Huskies.
Dan Shaughnessy, a well-known sports columnist with the Boston Globe, sent out a Tweet on March 27th that some took offense to: "UConn Women beat Miss St. 98-38 in NCAA tourney. Hate to punish them for being great, but they are killing [the] women's game. Watch? No thanks."
This criticism isn't new: In 2010, writer Ron Chimelis was asked by a reader on MassLive, a Massachusetts-based newspaper, why the paper wasn't publishing the box scores of UConn's games. "To me," he said in response, "that's like printing the final vote of an uncontested election." He went onto say that UConn is "stunting its growth,"–the "its" being women's college basketball.
When it comes to the women's game, there is perhaps no team more synonymous with success then the UConn Huskies. They have 11 national titles–including this year's–with 10 of those coming in the past 16 years. They've reached the Final Four for the past 9 seasons, and the Sweet Sixteen for the past 24. They've produced such talent as Diana Taurasi, Maya Moore, and, most recently, Breanna Stewart. In 2009, 2010, 2014, and 2016, they went undefeated.
All in all, UConn is consistently one of the best teams–if not the best team–in women's college basketball–and it makes the criticism that UConn is "ruining the women's game" a bit odd.
UConn's coach Geno Auriemma thought so as well. In a press conference on March 27th, Auriemma said, "When Tiger [Woods] was winning every major, nobody said he was bad for golf. Actually he did a lot for golf. He made everybody have to be a better golfer–and they did. And now there's a lot more great golfers because of Tiger."
But since the question was posed by Shaughnessy, it's worth answering: Is UConn's success runining the game?
"
UConn's dominance is no different then UCLA's dominance in the late 60's in men's basketball," said Davis. "It'll help girls' basketball in the long run. It's gonna make girls' basketball better because more girls are trying to achieve that level. "
— Nathan Davis, Teacher and Coach at AHS
Nathan Davis, a science teacher and an assistant boys'  basketball coach at AHS, was quick to dismiss this belief.
"UConn's dominance is no different then UCLA's dominance in the late 60's in men's basketball," said Davis. "It'll help girls' basketball in the long run. It's gonna make girls' basketball better because more girls are trying to achieve that level."
Emma Janousek, a senior who played basketball at AHS for all four years of her high school career, echoed Davis's sentiments on if UConn is ruining the game.
"Ruining's a bit far-fetched," she said. "I still enjoy watching the Final Four game. I think it's still entertaining to watch."
According to the NCAA, Davis and Janousek are both right. 39,540 people attended last year's Final Four women's match ups, where two different games were played between Connecticut and Maryland and Notre Dame and South Carolina. That number is the highest it's been in five years. The number of viewers watching on TV was 2.2 million; a number that was up by 7% over 2014's game.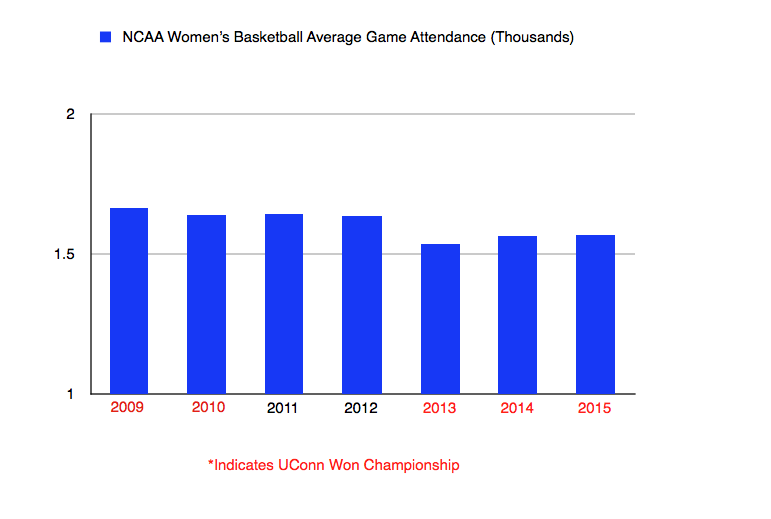 But the data also reveals another startling fact. According to the NCAA, 3.1 million viewers tuned into the 2015 Women's NCAA National Championship game featuring UConn and Notre Dame. But in comparison, the 2015 Men's NCAA National Championship game, featuring Duke and Wisconsin, captured a staggering 28.3 million viewers.
Even though women's basketball is gaining more popularity, why is it sill so much less popular then the men's game? And is that UConn's fault?
In an article with USA Today in 2012, Madison Hartman pointed to media coverage as one reason why the women's game isn't as popular.
"The only chance of catching a [women's basketball] game on TV is if both teams are ranked in the top ten and there is no men's game competing for the time slot," said Hartman.
And, according to a report published in Sage Journals, Hartman is spot on.
In 2014, during the NCAA basketball tournament, SportsCenter featured stories on both the men's and the women's tournaments. However, SportsCenter spent a total of 5 hours, 21 minutes, and 87 seconds covering the men's tournament. They spent only 24 minutes and 29 seconds on the women's tournament. Similarly, local affiliates in the Los Angeles area spent 2 hours, 40 minutes, and 16 minutes on the men's tournament; they spent 11 minutes and 80 seconds on the women's tournament.
Additionally, Davis discussed some of the similarities and differences between the women's and the men's game.
"They make the same mistakes," said Davis. "Boys will make mistakes at a faster speed and the girls will make them at a slower speed, but they have the same impact on the game. Sports fans don't, a lot of the time, see that. They see the girls' game as a slower game."
Davis also pointed to aggression and society's perception of it as one reason why the women's game isn't as popular as the men's.
"When two girls get after one another, they [the spectators] just think they're being petty," said Davis. "With the boys it's okay. And that's just a sociological thing."
And even though the men's game may be more popular, that doesn't mean the women's game doesn't have a following. Janousek said that she personally enjoys watching the women's game more.
"Women's basketball is more of a team game," she said. "Men's basketball games have more showboating…I like watching a team game more then just a couple of stars dunking all of the time."
Leave a Comment
About the Contributor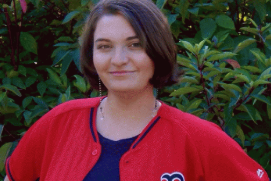 Hannah Martian, Editor-in-Chief
Hannah Martian is a senior at Arlington High School. She participates in Knowledge Bowl, Hi-Q, NHS, tennis, and is a senior class officer. She is the Editor-in-Chief of Arlington's website, The Eagle. She hopes to go to Washington State University, then into the publishing industry...or maybe she'll become a color commentator for professional baseball.