The Drivers Ed Program at Arlington High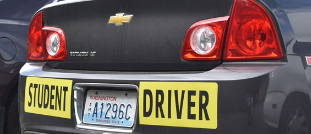 There are multiple different drivers' ed programs in the vicinity of Arlington and all around the state. Students here have the opportunity to take drivers' ed at school. Arlington has been teaching drivers ed for a number of years. Our drivers education program has an ongoing class 4 times during the year; starting in September and continuing through the summer. The first quarter started on the third week of school. The second quarter starts on November 21,2022. The third quarter starts on February 6, 2023. 
All you need to do to sign up for driver's ed is go to Arlington's website. Look for the "For Students" tab scroll to "Driver's Education" and it will bring you to the page and give you links for the forms that need to be filled out. Or you can go to Mr. Brooke's classroom and ask him to help you sign up. 
For Driver's Ed, it is essential that you turn in your paperwork and payment as quickly as you can. The classes cost $600 and you will need a Washington State Driver's Permit. Your paperwork must be completed and turned in before the classes start. As far as the payment goes, there are a few different ways to pay for the classes. You can pay it all at once, pay half the cost at one time and the other half a different time, or you can do a set of three payments. 
Before classes start it is wise to go to the office and check to see if your name is on the list of students enrolled in the class. Towards the end of your drivers education class, you will need to take your written final test and your final drive test. They are not included in the initial $600 you pay for the class. The written test costs $45 and the Drive test costs $80. 
Mr. Brooke is Arlington's current drivers' ed teacher.
"I started in '94 and they had been doing it for probably 15-20 years before that. So probably in the '60's I would guess," Mr. Brooke said.
Arlington's program has its positives and negatives, as do all driving schools. "I do believe we have a better program. It's more convenient for students. It's less expensive…Also we don't have to worry about profit. We just have to break even," Brooke said. 
The school isn't looking to profit off of teaching drivers ed, they're just looking to teach students how to drive. Mr. Weber works with Mr. Brooke. But instead of teaching in the classroom, he drives with the students. 
"I think we're more effective because we know a lot of the students. It's more convenient for them to just stay at the school and meet with Mr. Brooke after school. And a lot of us doing the car (driving with students) have more of a connection with the students already," Mr Weber said. 
Going to Driver's ed is more convenient because you can go to driver's ed after school without trying to find a ride somewhere else. Esmerelda Carmona had taken drivers' education at Arlington about a year ago. 
"Yes, because I know students that have been taking it outside of school say it's shorter and they've failed many times," Carmona said. "I feel like it's good but the way they teach it is very quick and I don't really like that. We don't really have time to study, they just like teach. Quiz. So I just guessed on everything," Carmona said.  
There are a few changes that should be made to the program. "It should be equitable all the way through the state. So if you're a public school, the same parameters, guidelines should be for the private schools too. So, public schools have stricter guidelines, private schools do not. I think that would be a big one. Just, it's the same all the way across the state, or maybe even across the nation. So you get the same education regardless of where you are," Mr Brooke said.
"The cost is getting prohibitive for a lot of people. It's like $600 now. It used to be, over 20 years ago, that the state would subsidize schools. Students would still pay a little bit but it was a very reasonable amount, like $150. But it's no longer offered during the normal course of the day as a class; and the state doesn't help offset the cost," Mr. Weber said.
 "Let us study. The first thing they had us do was to read the whole book then take a quiz. I had just started school and I had a job. When am I going to have the time to do that? I never read it. But I passed because I cheated," Carmona said. 
Most people that have taken the course don't have many bad things to say about the program. But unfortunately the program is very limited. There aren't many teachers and Mr. Brooke is going to retire soon. 
"There's always limited seats. The limiting factor is the number of drivers. Because it takes a lot of time in the car. So it's kind of first come first serve. So you have to pay for it if you want to get in the program. If any of us stop driving, like Mr. Brooke is going to retire in a few years, so the program will get smaller…" Weber said.
Leave a Comment