Dear Freshman, We Have Some Advice for You
The transition into high school from middle school is an awkward and scary time for teenagers going through it.  They wonder if they'll be able to find all of their classes on the first day, or have a place to sit at lunch.  They might wonder how to sign up for a sport or club they're interested in.  They don't know what side of the hallway to walk on or how to blend in with the upperclassmen.  And what does B, C, D, and E wing even mean?  The seniors at Arlington are very well rounded after spending 4 years in the same hallways and each has had their own unique experience in high school.  They know all the in's-and-out's of the campus and how to make the most of your time at Arlington High School.  For incoming freshmen, seniors are the best people to ask for advice.
  Drama club president, Emily Colombo is a senior at Arlington who has been involved in flight and drama throughout her high school career.  Her biggest advice to freshmen is to "be bold! In every choice you have, you are granted an opportunity to create something unique.  Don't waste that opportunity on something safe.  Don't be afraid to stand out."  Colombo also said that teens can feel lost in the big scene of high school but "the performing arts gives everyone an opportunity to be seen."  She encourages everyone to explore all the possibilities at Arlington High School and try something new.  
Shayaan Khan, or "chicken" as some may know him, was the senior lead in the student sections at football and basketball games throughout this school year.  His advice to freshmen is to "get more involved in any school events."  He urges students to have fun in the student sections at Arlington and cheer on our teams. "You're going to remember these moments later in life so just live it up!"
Another important tip given by senior Alexander Sanchez Ramirez is that "time passes by quick [so] learn to enjoy your time but always put your education first before anything."  He continued on to say that by the time you're a senior, you'll be less stressed out by making your education a priority. 
Monte Copenhaver is a senior who is involved in Knowledge Bowl at Arlington.  His advice about joining a club is to go out of your comfort zone and be willing to hang out with new people and find something you enjoy doing.  "All these groups are open to everyone and the teachers are always supportive of new members, so it's really just up to you to find what you enjoy and be willing to give it a chance."  Copenhaver also encourages incoming freshmen to be humble and open minded because there's something for everyone at Arlington High School.
Senior Maggie Mirante urges freshmen to "walk on the right side of the hallway,"  this way they won't get jammed up.  She also added that you shouldn't walk slowly in a big group that takes up the whole hallway.  "Don't build a wall!" 
This past winter sports season, Sophie Willis completed her high school basketball career as a senior guard.  Her advice to incoming athletes is to have as much fun as you can.  Willis said "Having fun and loving the sport is the most important thing!"  She also tells them to work as hard as they can because it will pay off in the end.  
Senior Carter Kikuchi is also a part of drama club and doesn't want incoming freshmen to stress too much about the audition process if they're interested in joining.  "There have been so many people who have been too nervous to audition for something and missed out on something extremely fun.  All the programs give you an opportunity to meet so many new people that can end up being some of your best friends so even if you're nervous, just try it out and if you don't like it, that's okay! If you do, then you'll have a fun future ahead of you!" said Kikuchi.  
"Sporting events are where you create countless memories with your friends in the student section," says senior Aiden Green.  Green is someone who loved to go all out for the student sections at every football and basketball game.   He says that choosing not to dress up will cause you to stand out in a bad way, rather than if you do dress up.  His recommendation is to get "out of your comfort zone and go all out on dressing with the theme."
Even though these seniors offer great pieces of advice, they went through the same struggles any incoming freshman would.  They've gone through all the experiences and all the great and scary things that high school has to offer.  Although this transition sparks many questions for underclassmen, everyone finds their way eventually.  Before the blink of an eye, these freshmen will be seniors walking through the halls, telling their own stories and sharing their own advice.  
Leave a Comment
About the Contributor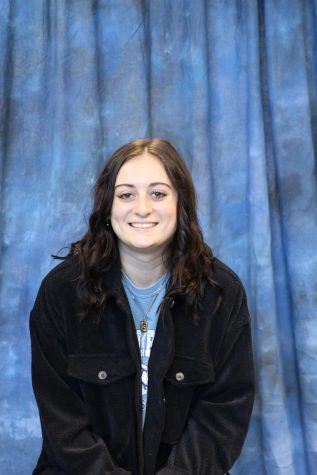 Lexi Eck
Lexi Eck is a senior at Arlington High School and is a journalist for Eagle News Media.  Lexi enjoys writing stories about people and current events in the world and at the school.  Lexi is a part of the varsity softball team and loves being at as many Arlington sporting events as possible.  Lexi is undecided about what college she's going to attend, but plans to study English and journalism after high school.