The Mask Mandate Being Lifted
Covid 19 caused many changes throughout the past two years. One of them being the mask mandate. On April 28, 2020, the mask mandate was put in place, and on March 11, 2022, the mask mandate will be lifted in the state of Washington. 
Even though students can have their mask off after March 11th 11:59 pm, some students still want to keep their mask on. With that said, one of the biggest reasons for keeping their mask on is not for themselves, but for the others around them.
A student which wishes to remain unnamed said, "I'm fine with the mask mandate being lifted, but I think in a few months cases are going to rise again and it'll be back. There are some classes where I'll feel uncomfortable having my mask off and others where I'll gladly take it off. It also depends on if I'm going to be crowded with other students or not. I'm fully vaccinated so it's not myself I'm worried about, it's more the people who are relying on herd immunity and everyone wearing their masks to not get sick or the high risk people."
With this in mind, some students don't know what they're going to do. Some are conflicted with the idea of having your mask off or having their mask on.
Tegan Coughlin, a freshman at AHS said, "I don't know what I'm going to do. Personally I'm really bothered by the sensory feeling of masks, but the safety of people around me is more important to me, so I'm not sure yet."
However, some students are tired of wearing masks, or just don't agree with wearing masks at all.
A student who wishes to remain unnamed said, "I'm just sick of covid and I just want to go back to normal, and I didn't feel that the mask did much of anything except [be] uncomfortable."
With all this in mind, many different people have different viewpoints on the matter, but the school wants students to respect each other and lift each other up. Some might wear masks, others might have no mask, but the idea is to stay positive, respect others, and work through covid together.
At AHS many people are sick and tired of covid, but the school wants to make sure that no student is harassed because of their decision for wearing or not wearing a mask.
Leading up to the mask mandate, Mr. Fish has made a couple of announcements, stating, We want everyone to respect each other and their opinions, whether they're wearing a mask or not. In the end, it's very important to respect people no matter what their opinion is.
Leave a Comment
About the Writer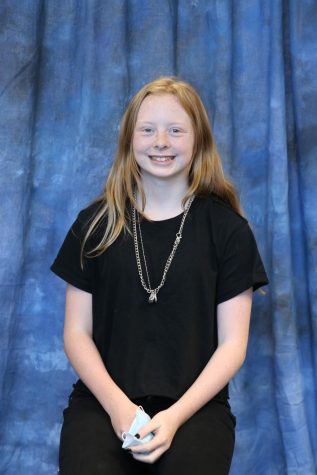 Madison Moore
Madison Moore is a freshman at Arlington High School, and is a part of the Journalism class. Madison enjoys sports and hopes she can write and take photos of the school activities here for The Eagle in the near future. She is currently on the cross country team and likes to make it to any sports event she can. Madison is still not sure what she wants to be in the future, but plans on following either an art or writing career.