Travel for the Holidays
It's officially the holiday season and students from Arlington High School and their families are preparing to see family and friends. For some, it might mean traveling but for others families are saying there is no place like home for the holidays when it comes to the covid numbers increasing. 
I created an Instagram poll where I asked students from Arlington High School if they will be traveling for the holidays the results came in fast. 26 students took the time to answer. 77% of voters on my personal poll said they were staying home for the holidays and 23% claimed they would be traveling. If you're part of the percentage of people who are traveling check this link to see the current number of cases.  The last 7 days 1,469,680 use this site to consider the risks and use information for travel. 
Even if you're gathering and traveling there are still ways to be safe. Masks are the number one thing that will prevent the spread of covid this holiday. 
Arlington High School's nurse Krista Gibson said, "For traveling the masks are listed as the lower level being cloth masks from there get surgical mask… next level KN95 masks an even better choice but they can be hard to get." 
The best thing to do is to stay updated on the corona virus if you're going to travel. The CDC has some good tips on what to do for the holidays and how to prevent the spread of covid.
"Always wear a mask in public settings, when using public transportation, and when around people who you don't live with."   https://www.cdc.gov/coronavirus/2019-ncov/daily-life-coping/holidays/winter.html                                                
Freshman Olivia Dean says, "We're preparing by watching the news and watching the cases and I'm going to double mask when we travel."  
It's understandable that students want to travel for the holidays. It's not the same as it was before but it's a good time to spend with family if it's done safely. 
Freshman Antonio Kempf says, "We're being sorta cautious, only four of us are going to Texas…. We haven't been able to see grandparents so we thought we would travel." 
"If you must gather there are alternate strategies like an outdoor setting. Obviously there are not going to be any 30 person gatherings. Just having a good idea; wash hands, keep masks on possibly. Just making a decision right in this moment if it's safe to gather and travel covid loves to be in a group. Spread out, find ways to meet in a smaller group." Says Gibson.  
Junior Olivia Wyatt says, "I won't be traveling this Holiday… I have not been going out that much only for work and for sports and if I were to have symptoms I would go get a test." 
Although traveling is different then past years it can still hold the same amount of excitement around the holidays. Just remember to bring the 2020 necessities including your mask and hand sanitizer.  
"Yes traveling is different…" said Kempf
"It doesn't feel real that we're going to be traveling. Yes there is a risk but I'm excited." says Dean. 
"I think just be safe, stay healthy, but don't be afraid, have a good time traveling with your family." Says Wyatt. 
Gibson said, "My feeling is we people just need good information and let them make the best decision for themselves and their families." 
Happy Holidays and safe travels!
About the Writer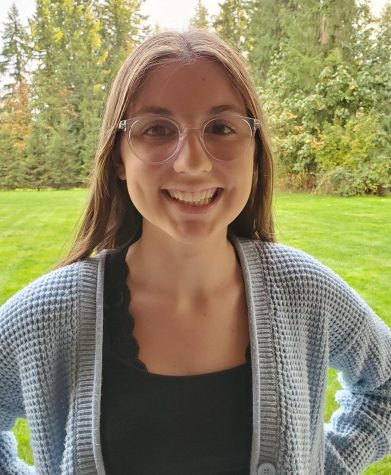 Mia Guertin
Mia Guertin is a freshman at Arlington Highschool. Mia is involved in the journalism class at the highschool. Outside of school, Mia is an avid reader...