Prep for winter BB VS Other Sports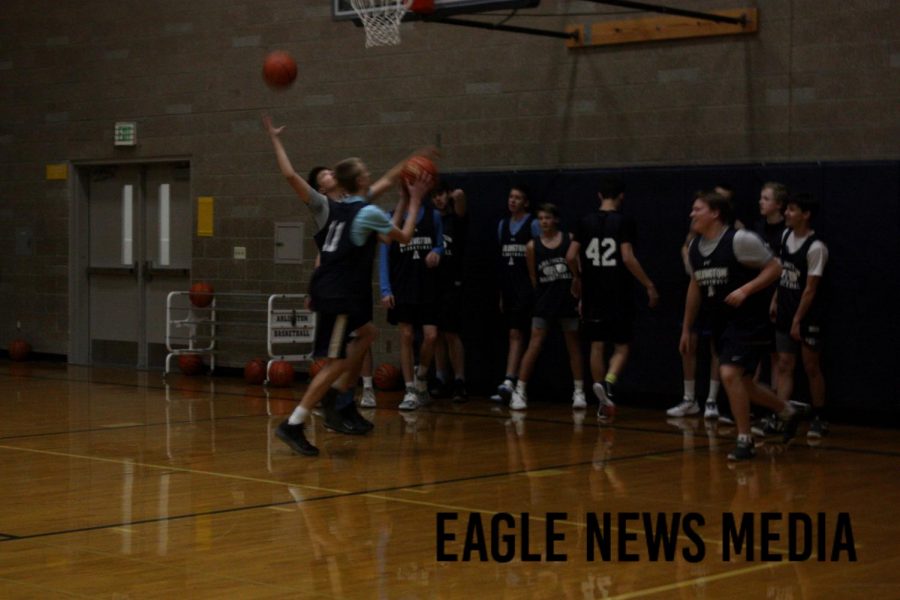 To begin with, so far this year the sports that happened are cross country, football, girls soccer, volleyball, tennis. Now boys and girls basketball season is coming up along with wrestling season.
Now that boys basketball season is gonna start up do you ever wonder how they train versus how other sports train. An example of different sports would be girl's basketball and  boy's tennis.
A junior Ella Strittmatter who plays girls basketball said that she "Trains with a training coach, Kira, 3 times a week from 6:30pm-8:00 and weight training after school". "I practice drill shooting, ball handling, blocking all year" Strittmatter said.
For girls basketball training you don't have to only train with school coaches you can also train with coaches outside of school and also do conditioning outside of school not just in school. Also mentions the type of skills she does in training  and how often she trains for.
Strittmatter says how she feels about training is "I get down because I don't want to go, but then it pays off in the end and I'm satisfied with what I have done." Also what she enjoys about training is "her friend's". What she doesn't enjoy is "condition".
Which is her opinion on how training makes her feel and what she looks forward to when training and what she doesn't look forward to in training.
Taras McCurdie, a senior who plays boys tennis, said, "Training is like a variety of courses. What we do in training is hit the ball, stretches, warm up, volley drills, match play. We start late August everyday for 2 hours or more, then after school normal practice and then I stay 2 hours later working on trick shots like a total of 5 hours".
This is what boy's tennis training is like and the different techniques they do. Not only that but they also start training in late August before school starts and they practice for 2-3 hours but also stay longer to practice different shots for 2 hours.
"I don't like training when it's the school year, I like working individual better to improve my skills". "I enjoy competitiveness. I definitely don't enjoy when I miss a shot in practice, people calling bad shots when I know they are, getting beat, and having to cancel practice when it rains".
Shows that working individual can be better to improve your skills and what you need to work on but at the same time can enjoy the competitiveness against others. But when getting told something that you already know or not having practice can be on the down side of things.
A senior Nick Lewis said "Training is tough but the reward in the end is good". "What we do is run lots, go over plays, ball handling basics and stuff like that in training. We start try outs today and practice is everyday Monday-Saturday except for Sunday".
Shows that training can be hard and not the easiest thing but in the end it's good and pays off the work. But also the type of skills they do for boys basketball have similar aspects in girl's basketball.
"It makes me feel happy and I love the game". " I enjoy competing with team, growing as a team, and getting better". "I don't enjoy losing" Lewis said.
All in all this is how basketball makes Nick feel what he enjoys and what he doesn't enjoy about basketball showing his opinion about the sport.
Mr. Bryson a staff member said what training is like for him, "I'm the JV coach, Brown is the main coach he does more of the training guides, and it's more mentally thinking over summer how the season is going to be, what to think, how to set that mindset for the season. What I do is write player's name who are new, returning, and finding out what kids to cut. Practice plan for training is 3 days there's so many kids versus normal season". "We start today, tryouts are 3 days, and practice is everyday but Sunday".
Just showing that Brown does more of the training and that the boys don't really have much physical training. Additionally, this is what Bryson does during tryouts he's more of the person who makes the team and along with what Nick said about tryouts and practice.
"Exciting but also nervous because it's like the 1st day of school but 1st day of training and don't know what to expect". "Molding watching the team grow seeing improvement". "Late practice, 3-5 is perfect" stated Bryson.