Ultimate Frisbee Spotlight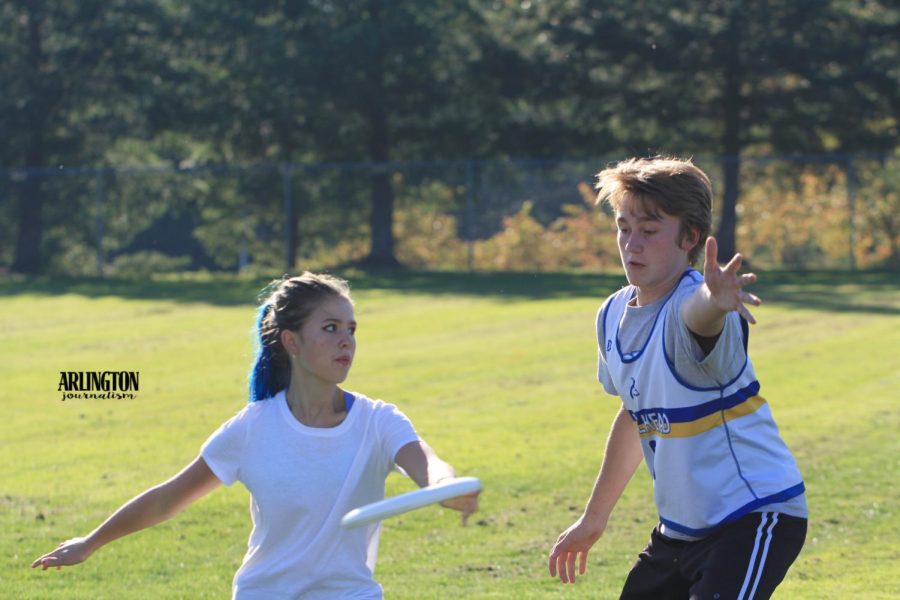 Josh Hurst, Photographer/Writer
December 5, 2018
Most of the clubs in the high school are academic.  Whether it be from Knowledge Bowl, to Spanish Club, they're all academic.  But there are a few that do stick out in the sea of scholastic. Ultimate Frisbee Club.
There are many benefits to joining Ultimate Frisbee.  Sam Schroeder (10) said, "it's really good cardio, and if you're off season, out of sports… it really helps you stay in shape."
Not only are there the physical benefits of the club, there are also many mental and social benefits to joining.  Michael Smith (12) said they "have some fun, [and] joke around."
Ultimate Frisbee is a fast paced game that has similar traits to football.  Both games have participants throwing an object down a hundred-yard field. Both games have an offense trying to score points on one side of the field and a defense trying to take the object out of the air.  The obvious difference is, one game has you throwing a ball and the other has you throwing a flying saucer like object.
Currently, the President of the club is Trinity Donahue (11), and Vice President is Hailey Pawley (11).  The club is advised by Mr. Christiansen.
Members are willing to teach anyone who doesn't know how to play.  The club uses their Mondays as a practice day and their Fridays as a game day.  These games usually last anywhere from one to two hours, happening on the soccer field down by the tennis courts starting at 3:00.