73 Questions with The AHS Eagle-Anne Fernandez
Hang on for a minute...we're trying to find some more stories you might like.
Get to know Anne Fernandez ('20) with me as I ask her 73 questions about herself.
1. What's your favorite movie?
La La Land
2. A book that you read in school that positively shaped you?
None
3. On a scale of one to ten, how excited are you about life right now?
A solid 6
4. Android or iPhone?
iPhone 5c
5. Twitter or Instagram?
Twitter
6. What's your least favorite food?
Olives
7. What's your favorite food?
Spaghetti
8. What do you love on your pizza?
Pineapple
9. Favorite drink?
Apple juice
10. Favorite dessert?
Depends on my mood
11. Dark or milk chocolate?
Milk chocolate
12. Coffee or tea?
Tea
13. Favorite band?
I don't have a favorite band
14. Favorite solo artist?
Frank Ocean
15. Favorite song?
Nights by Frank Ocean
16. Dogs or cats?
Dogs
17. Favorite color?
Green
18. Least favorite color?
Orange
19. If you had one superpower what would it be?
Time travel
20. What is the weirdest word in the English language?
Pus
21. When was the last time you cried?
2 weeks ago
22. Do you like your handwriting?
Yes
23. What is your least favorite thing about yourself?
My fingers
24. What is your favorite thing about yourself?
My sense of humor
25. Who was the last person you sent a text to?
Brittany [Anderson ('19)]
26. A sport you wish you could play?
Tennis
27. Favorite season?
Fall
28. Hugs or kisses?
Hugs
29. Favorite bedtime story?
I don't know
30. What would be the title of your autobiography?
I've never thought about that!
31. What's the best thing that happened to you this month?
Our cross country trip to Boise
32. What is something you're tired of?
Myself
33. What is something that recently moved you?
Mr. Murray
34. If you could teach one subject in school, what would it be?
Math
35. What's your favorite beverage?
Apple juice
36. What is one habit you wish you could break?
I don't know
37. What makes you laugh no matter what?
I don't know!
38. What is something you've always wanted to try but you've been too scared to do?
Eat something really spicy
39. What is something you will not be doing in ten years?
Being homeless
40. What is an important life lesson for someone to learn?
Don't expect anything
41. Favorite disney animal?
Pascal
42. What's a city you wish to visit?
New york
43. Where does one go on a perfect road trip?
I don't know
44. What is your spirit animal?
Steve Buscemi
45. What do you usually eat for breakfast?
Random stuff
46. What do you usually eat for dinner?
Asian food
47. Most recent celebrity crush?
Dave Franco
48. How do you know if you're in love?
Couldn't tell ya
49. Who do you turn to when you're sad?
Friends
50. Name one thing you've learned the hard way.
Don't expect things
51. What is your biggest strength?
I don't know
52. What is your biggest weakness?
Oh my gosh, I don't know, this is so hard!
53. Most important advice you'd give your future children?
Don't expect anything
54. Best first date idea?
A picnic
55. What do you first notice about someone when you meet them?
Their face
56. What's your guilty pleasure?
Candy
57. What are you most excited about these days?
Nothing
58. What's your favorite holiday?
Christmas
59. If you could switch lives with someone for a day who would it be?
Oprah
60. What makes you smile the most?
Friends
61. If you could go to any concert past or present, what would it be?
Frank Ocean
62. What was the movie that made you cry?
La La Land
63. If you could do a flash mob where would it be?
The school
64. You are stuck on an island, you can pick one food to eat forever without getting tired of it, what would you eat?
Apples
65. Favorite superhero?
Deadpool
66. What do you usually order at Starbucks?
Tea
67. One thing you can't live without?
Music
68. What is your biggest pet peeve?
When people are cocky
69. If you could turn any activity into an olympic sport, what would you have a good chance at winning a medal for?
Bottle flipping
70. If you were held at gunpoint and had to sing a whole song perfectly to save your life, what song would you pick?
Abc's
71. Are you usually early or late?
Late
72. What would be your first question after waking up from a deep sleep after 100 years?
Where am I?
73. What are some small things that make your day better?
Seeing people in the hallway

About the Writer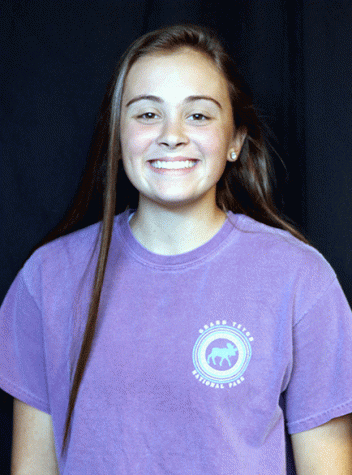 Taylor Zodrow, Staff reporter and photographer
Taylor Zodrow is a sophomore at Arlington High School and plays varsity softball as a pitcher.  Outside of school, Taylor enjoys hanging out with friends...