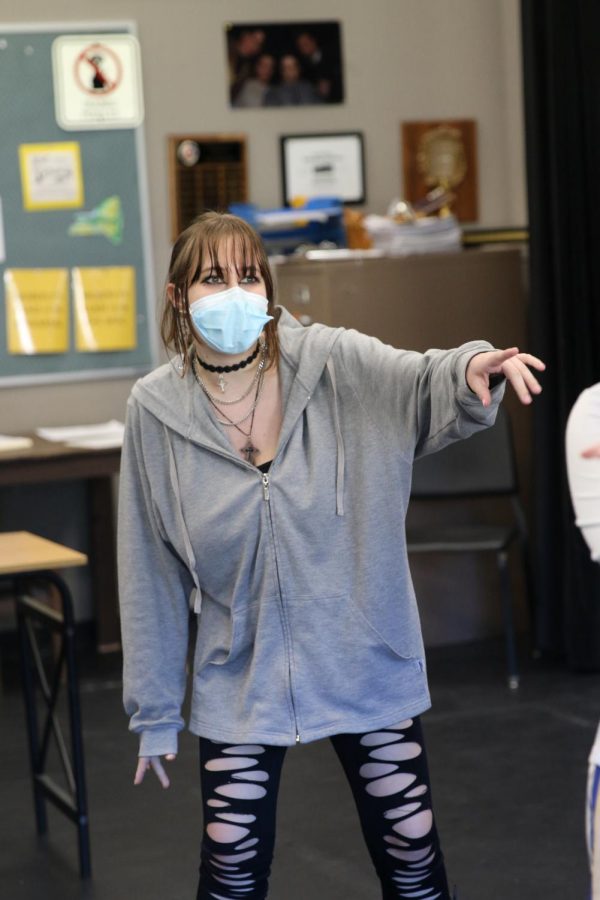 Adrian Santos
With the hybrid schedule launch and first week out of the way Arlington High School students are finding ways to gather and that includes extracurricular activities and clubs starting to meet in person again. Clubs like key club, FFA, and drama club are finding ways to connect that's not just on zoom. Since students are in the building there's also this awareness for the clubs and the work they're putting in is being recognized. 
Key club has had their first in person meeting and there's a lot in store for the club. Key club advisor Laura Anderson says, "covid really made people think about joining clubs and key club became desirable… We are trying to start a "kids these days" campaign because we want to combat the stigma that comes with younger generations and we want to recognize students' accomplishments in our community. Creating interviews for students that have done awesome things." 
Because of the little numbers key club which is open to all students is actually able to meet up safely whereas, National Honors Society an exclusive club has to stay online for zoom meetings because of the number of students. Anderson says, "If you're someone who loves to help and volunteer, join the key club because there are small numbers and it's a place you can serve that's a very positive environment." 
Another club that's been able to meet is FFA. Jessica Nemnich, the club's chapter advisor says, "One difference has been the numbers of members. It's been 8-10 members on a good day when there are more enrolled." 
The club that was once just for future farmers distinguished itself into a place for more learning opportunities in the whole field of agriculture. Since they are able to meet, Nemnich was saying how she hopes that they are actually able to go to fairs and participate in fair events. 
"It's important for students to do clubs because it helps with feeling social and there are opportunities to build your resume." says Nenmich.  
When you think about clubs one of the first things that may come to mind is drama club, on March 26, 2021 the drama club held a meeting to see when they would be able to meet up in person. Drama club advisor Scott Moberly said, "We are going to meet on Wednesday after school at 2:05. A cohort students will zoom in or make their way to the school." 
There are many things in store for this club since they are able to meet up in person and that doesn't just mean improv games. The drama department has really had to adapt with shows this year since they can't play in the B-pac.  "For our spring performance we just got the green light, we will be performing on the football field and teaming up with the choir students to create a show." Moberly says. 
"Clubs are a lifeline… sports only make up a third of what students do that leaves 2/3 of students who don't do things like sports. Students need a place to connect." says Moberly. 
It's exciting to see all of the clubs finally able to meet up in person and with a great start to the hybrid model, things are starting to look up!
Here's where you can find more info on where and when certain clubs are meeting:
Neobots Robotics Club
Rob Hollis
[email protected]
Weekly
Friday and Sat
5-7 and 12-4(Sat)
D121
Drama Club
Scott Moberly
[email protected]
Weekly
Friday
08:00
B117 Drama Club – Google Classroom
Students of Diversity
Naomi Gonzales
[email protected]
TBD
TBD
TBD
C113
FFA – Future Farmers of America
Mrs. Nemnich
[email protected]
Weekly
Friday
2:30PM Club calendar and remind test @arlingffa to 81010
D117
DECA
Mrs. Rust-Matter
[email protected]
Bi Weekly (Every Other)
Wednesday
230PM
NA
ASL Club
Jordan Houston
[email protected]
Bi Weekly (Every Other)
Monday
330-430PM
D205
LGBT+ club
Jason Ford
[email protected]
Meetings for next 3 weeks: April 20th +28th and May 7th
Tuesday (A)
Wednesday (B) and Fri.
2-3:15 or 12-1 (Fri.)
C208 or via zoom 
Nerd club
Robert Christiansen
[email protected]
Weekly
Monday and Thurs. 
After school
B202
Ultimate Frisbee club
Robert Christiansen
[email protected]
Weekly
Friday
1PM
Tennis courts
Photography club
Jill Hatfield
[email protected]
Weekly
Friday
10:35
Via zoom
FBLA
Jill Hatfield
[email protected]
Weekly 
Friday
NA
Via zoom